Have you ever wanted a pet but for some reason couldn't have one?
Maybe your apartment doesn't allow animals or maybe you have a family member who's allergic, but whatever the reason, you simply can't have a pet of your own.
Or maybe you already have one too many at home.
CARE gives you the chance to become a godparent to an animal in need via passive adoption.
The highlight of our shelter, is without a doubt, our permanent residents. There are people who have sworn that every time you spend time with them and walk out, it feels like they have completed a session of therapy. The animals at CARE have fought their own battles, and emerged as true heroes who take it as their duty to spread love among visitors.
They are heroes who don't wear capes.
How do I Passively Adopt?
Passive adoption gives you the opportunity to sponsor one of our permanent resident animals at CARE, for just Rs. 1000 a month. With this small contribution, you would be providing food, medicine and other necessities for animals that need to remain at the shelter due to pre-existing circumstances. In return, the shelter will keep you updated on your pet by sending you pictures and news, and you can even come and visit them whenever you're in the area.
Please remember, CARE constantly gets new animals, so we'll try to keep this deck as updated as possible.
If you would like to passively adopt an animal from the list below, click on the link http://imojo.in/Passiveadoption
Email: charliescareblr@gmail.com
Phone: 9035999372/ 8123038270
The gorgeous Amy… She came in as an abandoned pup. Being of a very naughty nature, she used to try getting into houses and people around tried to stone her. She ended up as a permanent resident of CARE and continues her mischief here. You will never find her inside a kennel, most of the time she stands on the roof of one!
She is all love for humans except when it's time for a bath (that's probably the only time you will see her lying on the floor and refusing to move an inch). After the bath, she is again all happy to lick and kiss you.. She is a great playmate for many of the other dogs given her high energy and cheerful ways.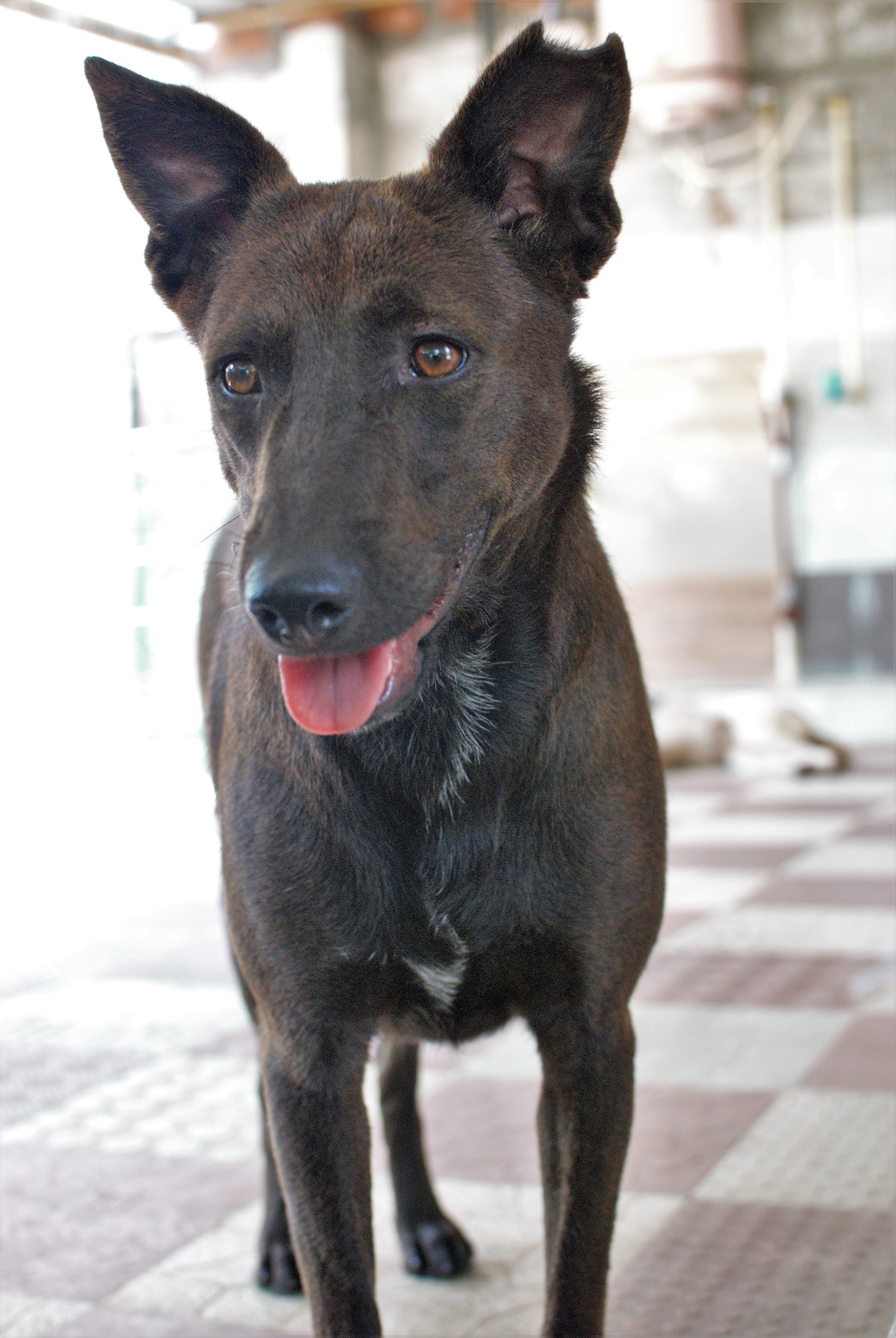 Anna of the soulful kind eyes and sweetest disposition was brought to CARE with one hind limb and one fore limbs badly broken after a vehicle ran her down. We didn't have much hopes about her ability to walk again but she proved us wrong. Fighting her condition with everything she had, we rooted for her at every step. Sadly, no one knew where she came from and so she lives with us, filling our lives with happiness.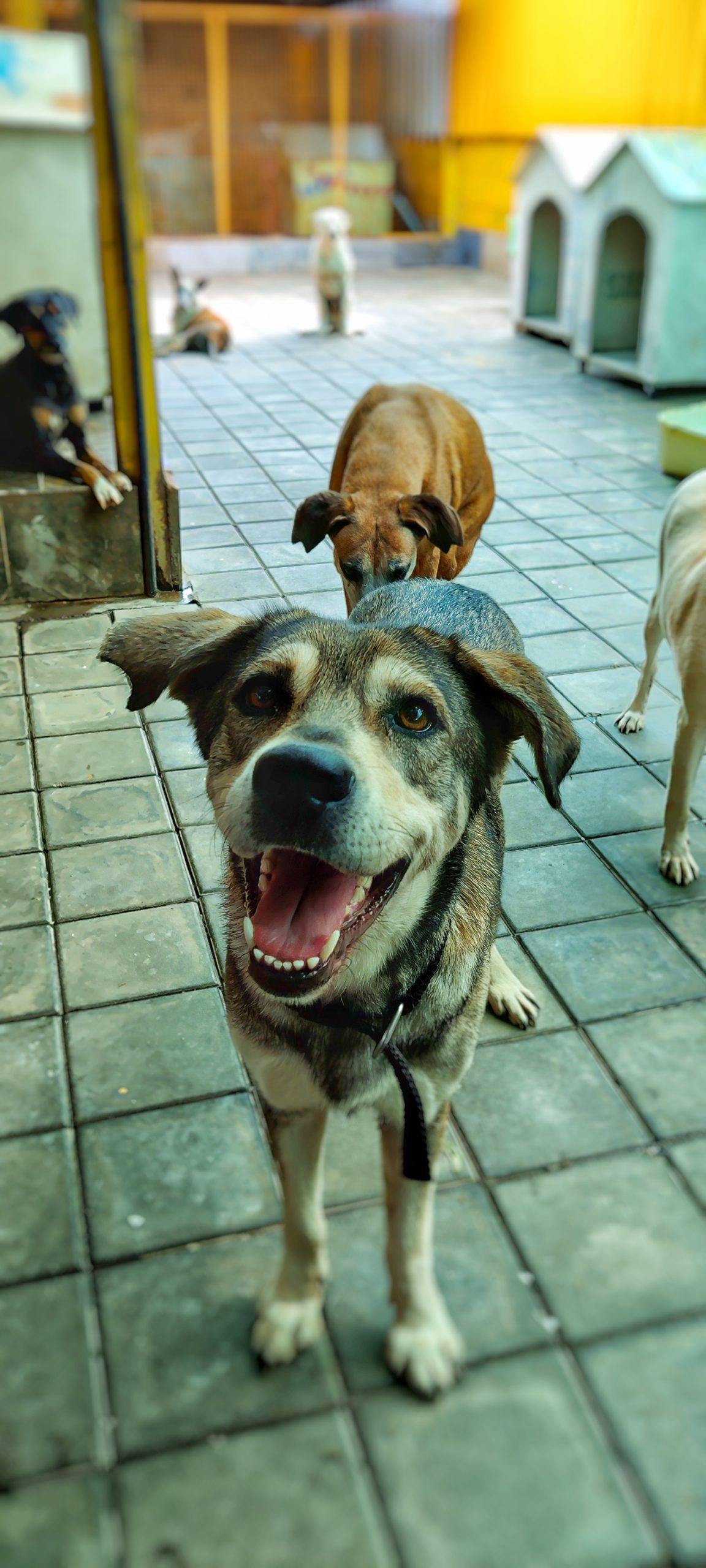 Bana had become paraplegic 9 years ago after a gruesome accident with a bus which left her spinal cord damaged and one hind leg crushed beyond repair. She has been with CARE for quite sometime and adds to the diversity here with her unique personality.
She takes her time to trust people and is also choosy about her dog companions. However, she pours her love on those she considers worthy of her trust. Her wide-eyed looks and tail wags can make you fall helplessly in love with her.
She loves being brushed (though not bathed) and likes to stare at the chickens in the barnyard. She is known to have an uncanny ability to sleep for hours.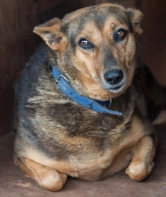 Ben, aka Ramu, lived in Hebbal as a community dog and was looked after by the people in the area. His life turned upside down when he met with a gruesome accident that left his lower jaw crushed and broken, making him unable to even eat or drink. Ranjani, a kind soul, alerted the CARE team about his condition and we brought him here.
His tail hasn't ceased wagging ever since he met all of us. We are leaving no stone unturned to help this happy soul get the best of medical aid and live a happily-ever-after life with us at the CARE shelter.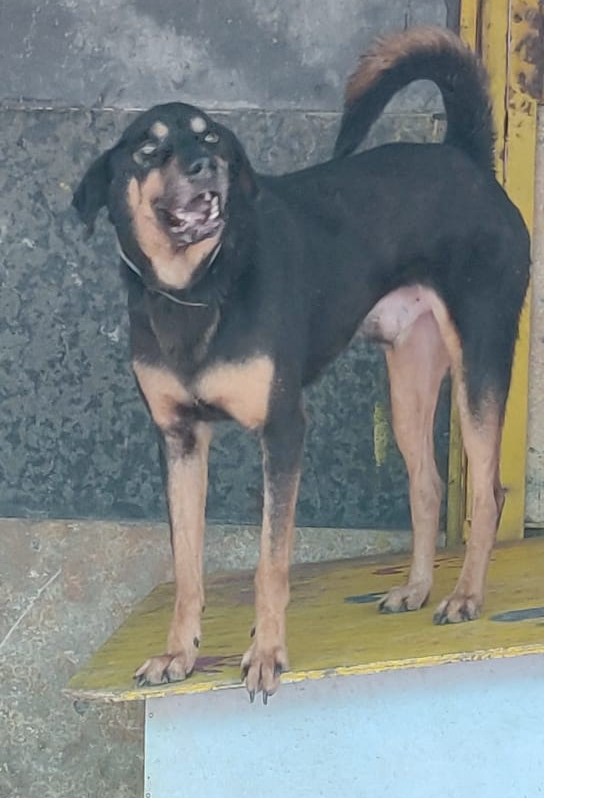 Bijlee is often seen as a part of the daily gossip among her dog residents. Her persistence to poke other dogs with her little nose and get into mischief often inspires her other dog friends to do the same.
She was found in a very pathetic condition on the roads of Gulbarga as a little pup. She had a problem with her intestines and was rushed to Bangalore for treatment. Her foster parent is one of the best we've seen so far. Unfortunately, she was bitten by a bigger dog, leaving her with a permanent disability in her hind legs.
With grit and determination, she overcame all odds and came to live with us. She got along well with the others and is one of our naughtiest dogs today. She justifies her name by being the fastest to run when fetching the ball. She is smart in finding abandoned brushes and immediately takes on the duty of chewing them. She has the biggest smile that can instantly melt hearts and she is capable of dominating all other dogs.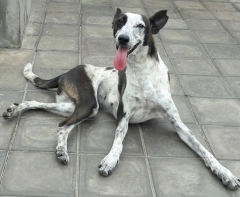 Biscuit is an adorable, friendly and bossy girl who knows how to get what she wants. She was initially brought to CARE for spaying. However, when she was released back in her area post the process, she found her way back and never went back (that's how bossy she can get).
Biscuit will slide up to you and beg you to open the shelter gates so she can sneak out for a small round of socializing with the neighborhood dogs. Even while being reputed for her bossiness, she accommodates surprisingly easily with her doggie friends and humans.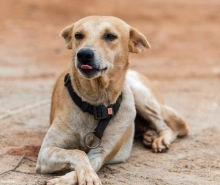 Blackie is a three legged, one eyed beauty who was rescued by Ms Sujata. She holds the official position of the Out Patient Department Supervisor. She keeps a watch on the vets and reports to Ms Sudha Narayanan, the Founder of Care on daily happenings at her office.
She is the darling of CARE and almost everyone who visits us knows her. She welcomes strangers by walking on her hind legs and extending her sole foreleg in greeting towards the approaching human. She then nuzzles her head on the human until both, human and dog loose themselves to a moment of uninterrupted love, silent and gentle.
Blackie is a symbol of courage and love amid struggle and loss.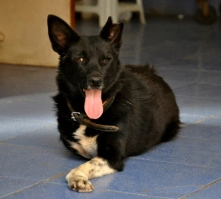 Blindy originally lived in Cubbon Park but was brought to CARE because of his blindness. He has his own special corner in our Permanent Resident area and he prefers to live there peaceful without interfering with others.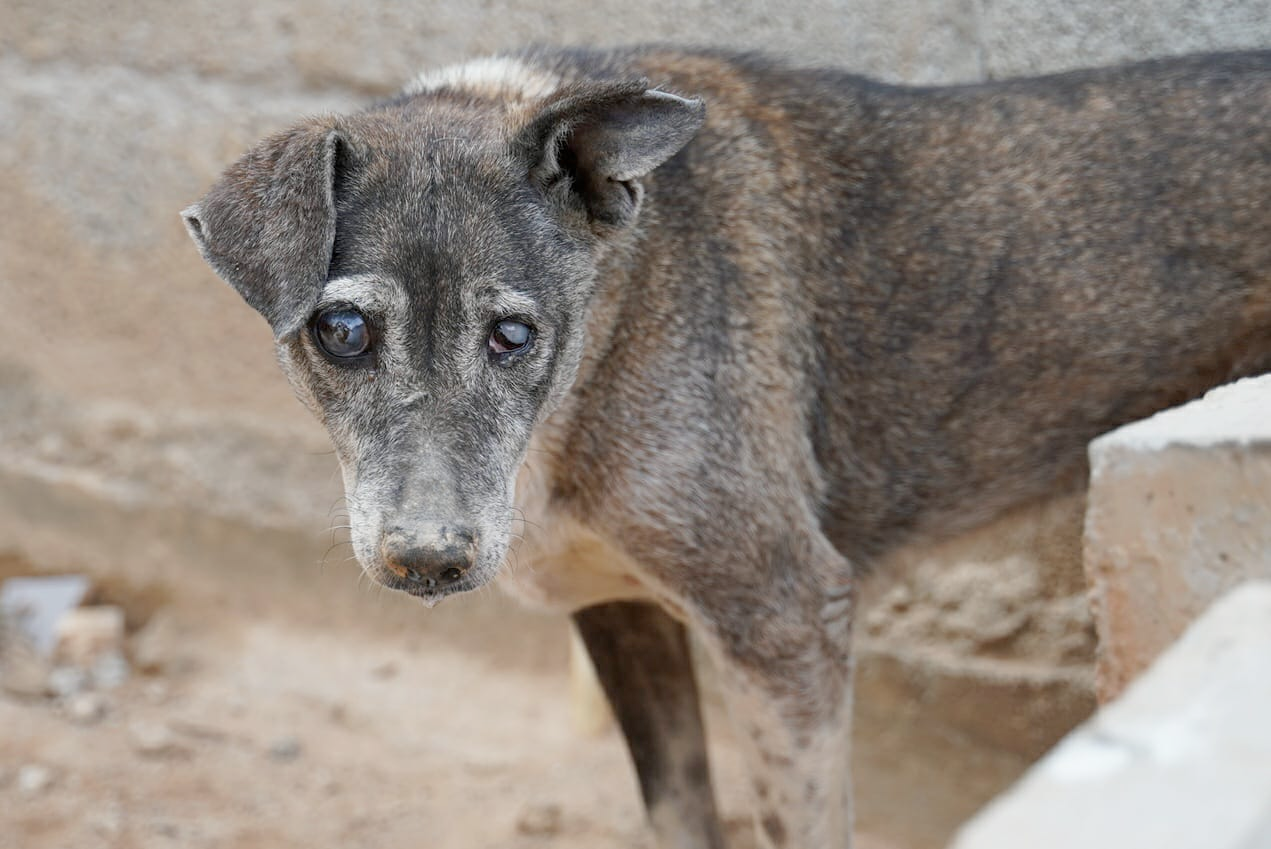 Bobby had unfortunately gotten electrocuted and lost a portion of his face. With the diligent efforts of the CARE team and his own determination, he recovered beautifully, and even regrew most of his face!
We are inspired by his courage and his attitude to life.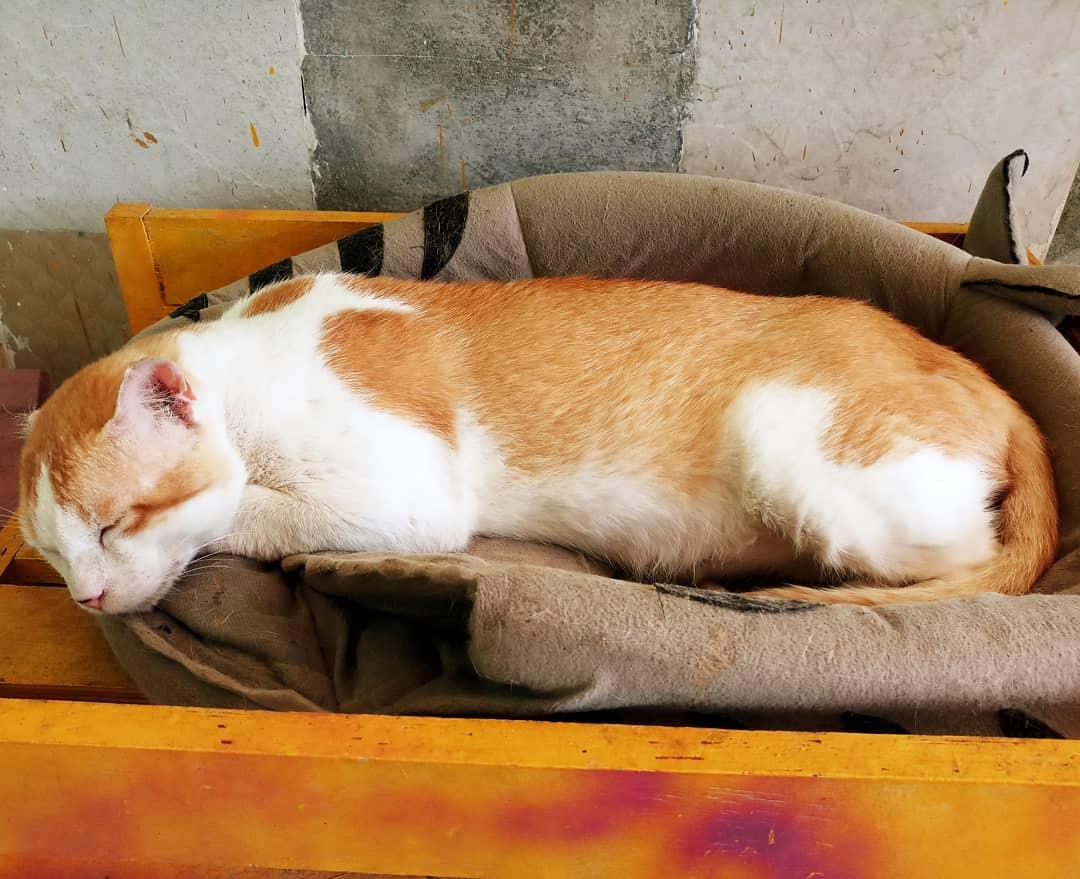 Bolt came in, after he was electrocuted, with burn injuries on his face and legs. It was a long uphill battle and while we almost thought the worst was over, we realized that he had turned blind overnight. This was because of damage to the optic nerve due to electrocution.
It was then that we decided to introduce him to our other permanent cat residents, which was another task altogether. Eventually it all fell in place and now Bolt has adjusted beautifully to his new life and friends. We admire him for his courage and inner strength.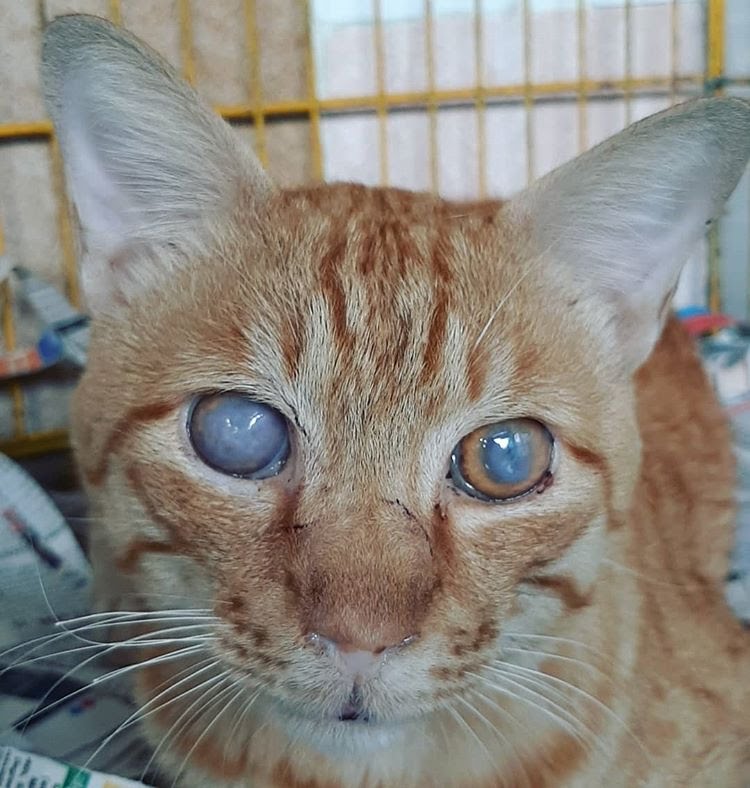 Boris was born with a congenital deformity of the spine and hence walks with a permanent hunch. He was found lost on the busy streets of Whitefield helplessly battling the traffic and was brought to us.
Here at CARE, we found Boris to be very loving and friendly. Once you start petting him, he can get quite possessive of you – he will keep pulling your hands with his paws in the most adorable way.
His hunch just does not deter him from being a brat. He is always inquisitive and is the first to start barking on seeing strangers. He will chew up anything he sees and has singlehandedly destroyed a tree and quite a few dog houses. He is known to have the ability to compress himself and make his way through small spaces like behind the kennels.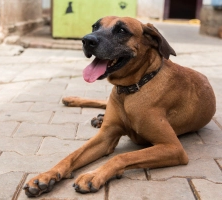 Bosky came from what we call "The House of Horrors". He belonged to a couple who were always high on drugs and alcohol and did not care for their pets. One day, the woman passed away and the man tied Bosky in a room, locked the house and disappeared. Five days later, the neighbors suspected something was amiss and alerted some rescuers. The rescuers in turn called the local police station and with our help broke open the door and rescued Bosky, with Leah, 2 cats and some Budgies.
Bosky developed canine distemper as soon as he reached CARE. With dedicated treatment, he recovered and today, he donates blood serum to many dogs suffering from canine distemper.
Bosky is a total sweetheart who demands attention and pets from all the volunteers. He nibbles at your pants if you don't pay attention and makes sure of winning a place in your heart.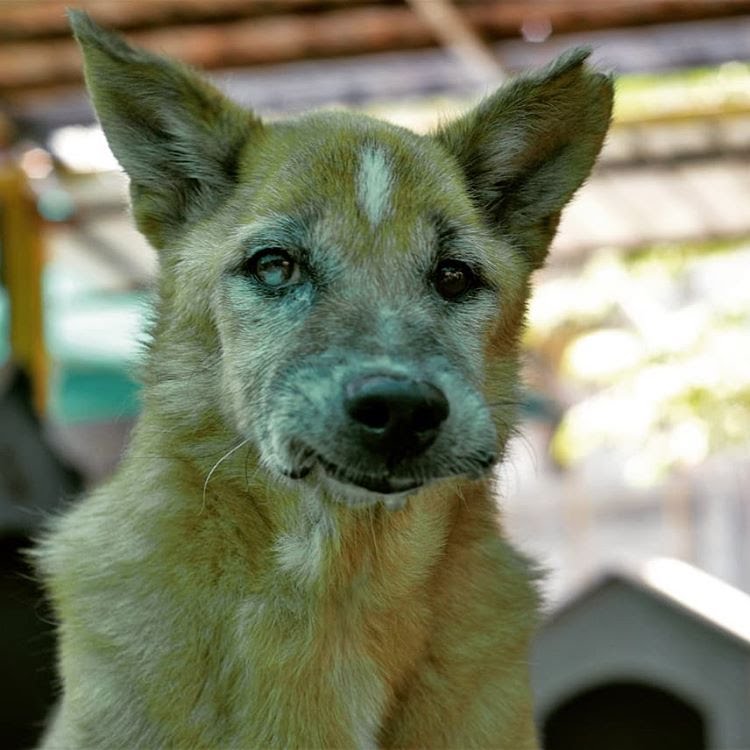 Bruno has a story of rising from ashes like a phoenix. He was rescued by Shalini Menon and sent to CARE where he was diagnosed with a spinal fracture.
The prognosis looked poor with little hope of him standing on his own let alone walking on those legs. And as if that wasn't bad enough, he also began to show signs of canine distemper.
We put in all our might behind this lad, and he fought with all of his.
With dedicated treatment including laser therapy and physiotherapy, he gradually started showing signs of pushing himself up on his front legs. His legs would bleed, but he still continued to hop around.
This is Bruno today and we are proud of him.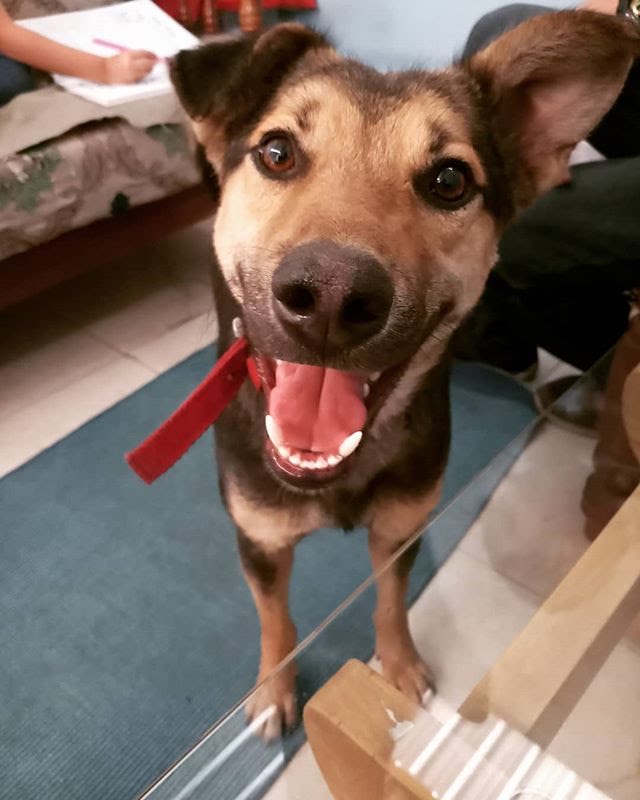 Cashew is a beautiful doggie with a strange brown spotted coat. Friendly, playful and a delight to be around with.
Cashew lost her leg in a horrible road accident.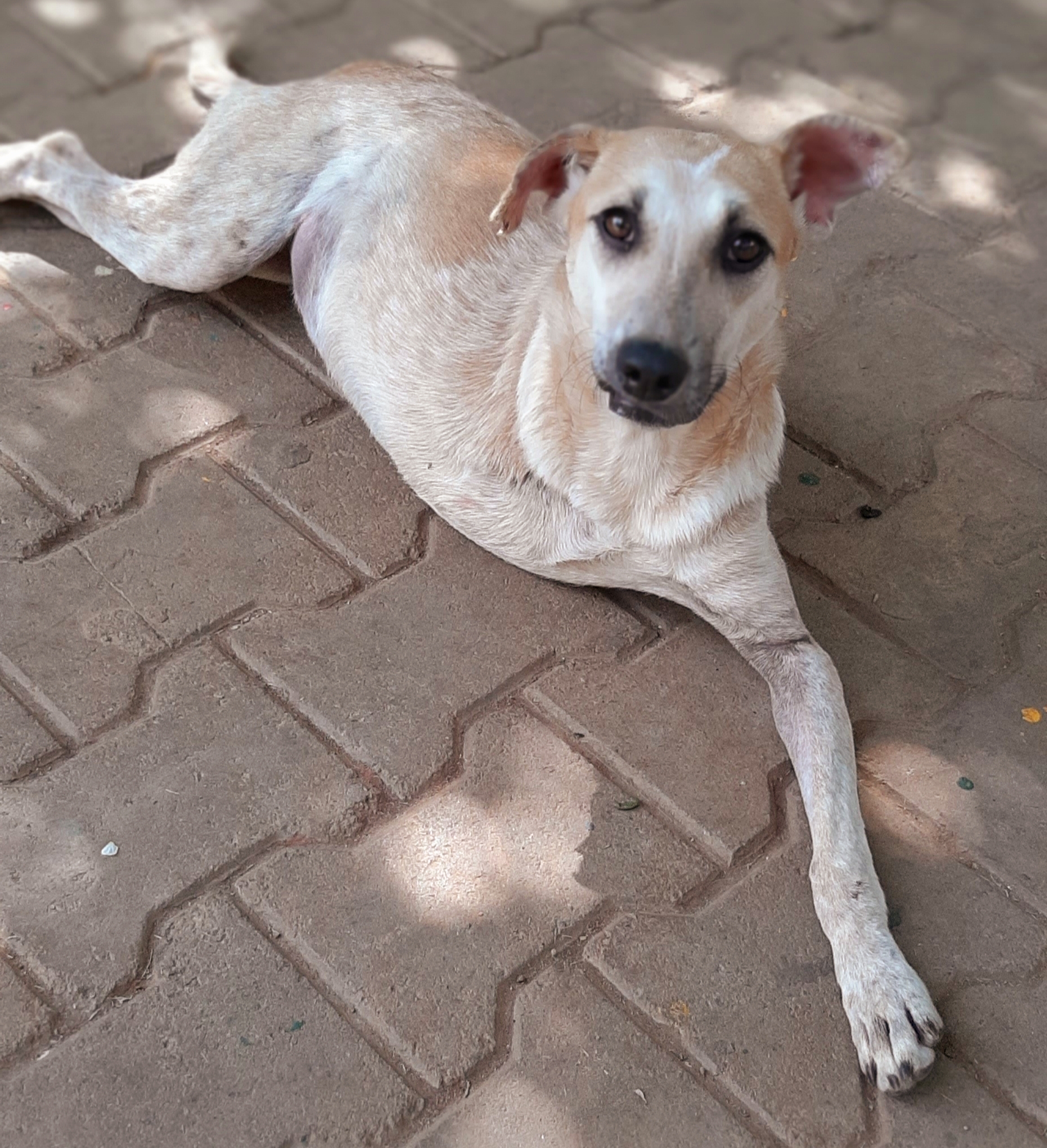 Cinnamon was found by a family in Vijayanagar wandering on the streets. She was a wee pup all of 20 days. They took her in and under Dr. Lohith's watchful care she blossomed into a beautiful healthy pup. She was originally brought to CARE for getting adopted but eventually ended up becoming a permanent resident here.
Cinnamon's energy and zest for mischief has made her very popular among the volunteers and visitors. One of the "Terrible Twins" duo, she is an attention seeker and will do anything, including nipping you sharply, to get to you. She loves a crazy game of fetch.
She is found snooping around the shelter and gathering all the gossip. She climbs atop fences with remarkable agility. She is certain to play an important role in every dog fight at CARE and is reputed for getting scolded most often. However, at the end of the day, she manages to steal the heart of every person who meets her.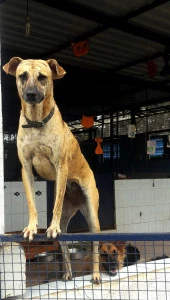 Clifford lost his mother when he was a day old. He was fostered by the indomitabe Manjari Chaitanya Colaco and came to CARE when he was 5 months old.
Today, he has grown into a handsome, intelligent dog and has learnt to unlock the fence of his lawn. He gives our dear Sheshamma a tough time and she is tasked with getting him back into the lawn every time he escapes. He greets every visitor to CARE with his licks and wags, and demands to be pet.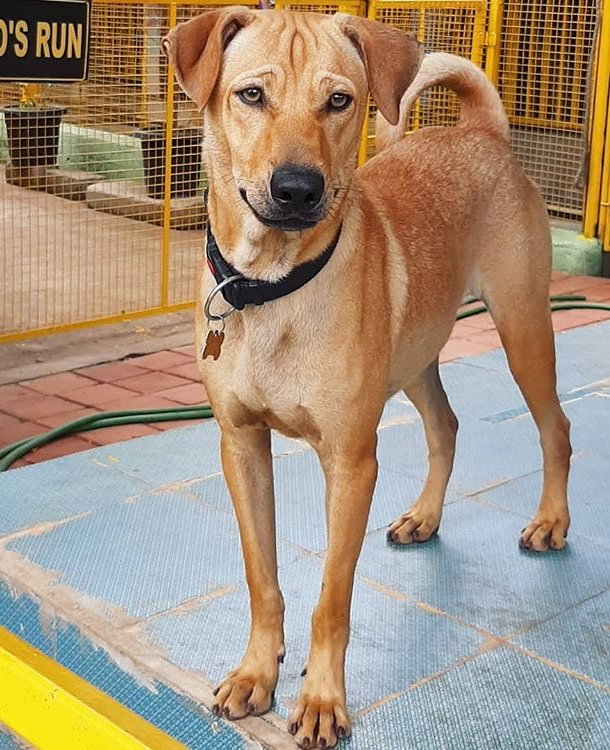 Cookie is a terrier cross who was found abandoned in Frazer town. He is one of the most unique personalities of CARE who chooses to be grumpy to the staff but gets along very well with visitors. He hangs out at the OPD with Bhalu, Chowdu, and Murphy.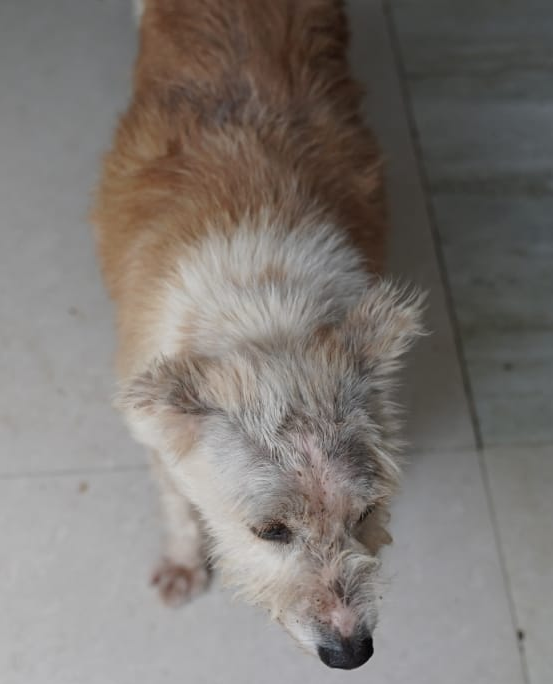 Chowdu came to CARE because of getting hit by a truck. He recovered well and was put up for adoption. Given his amazing good looks and friendly manner, he got easily adopted by a family living close to the shelter. However, Chowdu decided that he belongs at CARE and chose to come back all by himself. We had to bow to his determination and make him a permanent resident.
Chowdu hangs out with the vets at the OPD area and lovingly starts following Ms.Sudha whenever he spots her. He is very loving, yet naughty and takes the credit for destroying muzzles.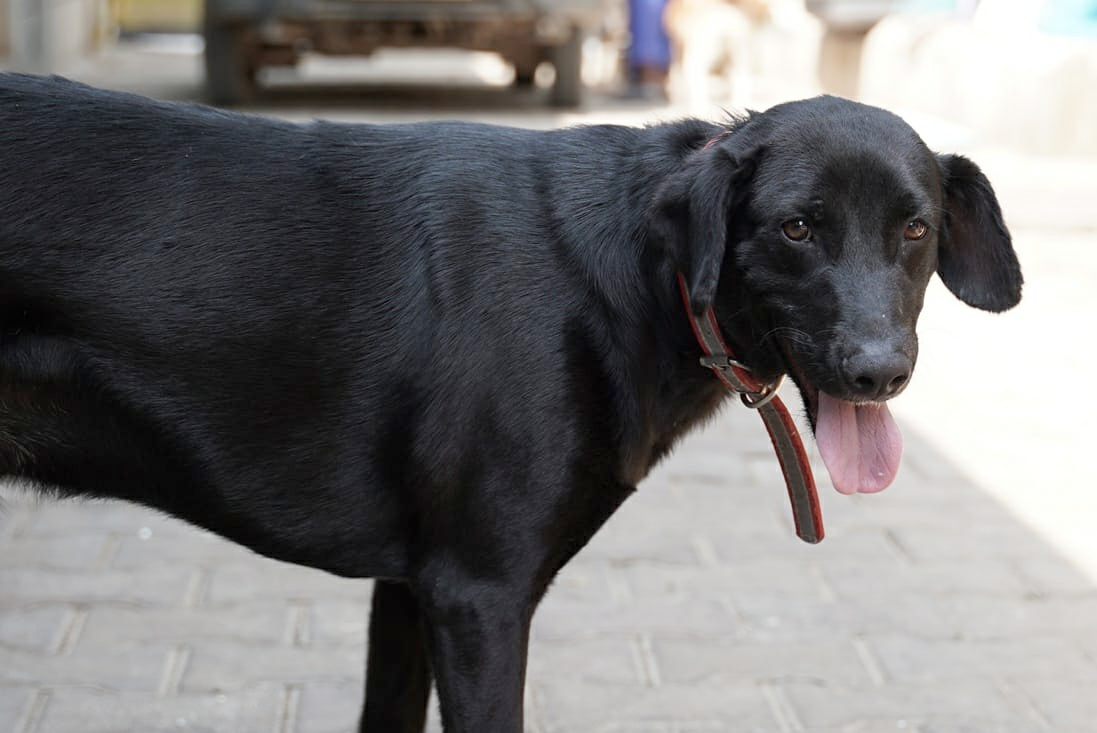 Cuddles aka Motu (4 years)
Cuddles was originally brought to CARE by her pet parents for a skin treatment. However, she ended up as a permanent resident her as parents were unreachable after leaving her here.
Today, she stays in the OPD area and rules the hearts of our vets who seek her out and find solace in her 'cuddles' after a stressful day.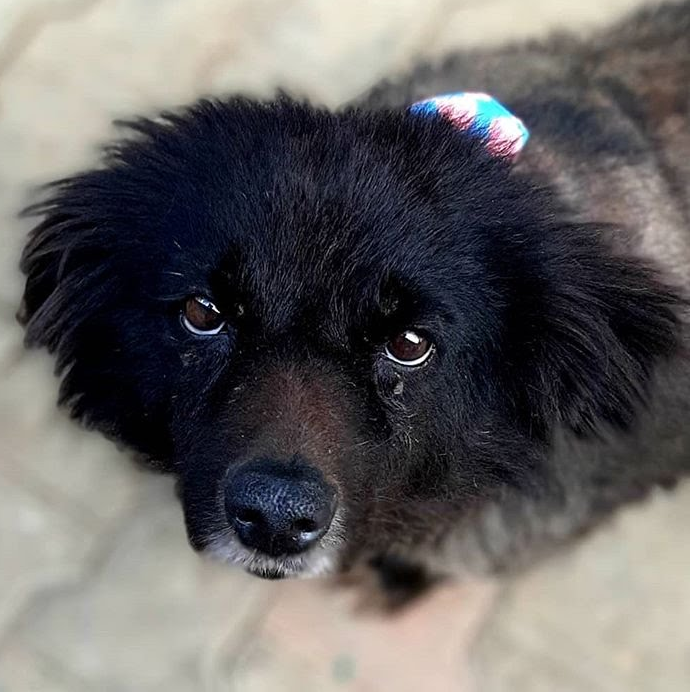 Daisy was abandoned on the streets when she was heavily pregnant, and blind. When she was rescued, she still had her collar on!
Gut wrenchingly, none of her pups survived, given that she had spent critical months without the care she deserved.
Daisy today shows no signs of the heartbreak she has endured. Her confident jumps and friendly welcome that she has ready for every visitor are only matched by the sight of her prancing around with Scooby!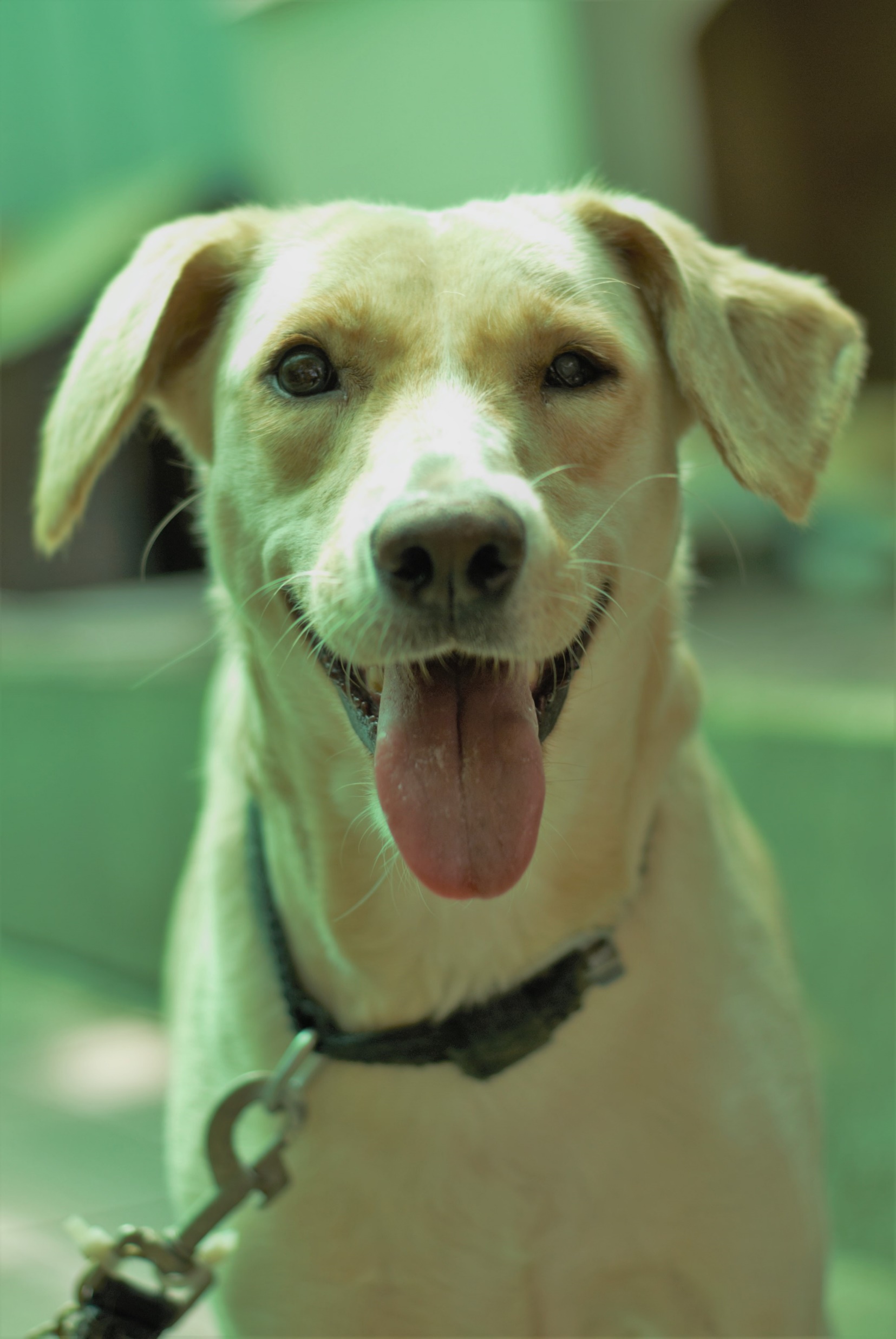 Danny came to CARE as a 4 month old pup with canine distemper.
In spite of making a recovery, he couldn't go home as the neighborhood cruelly stoned him.
He returned to CARE as a permanent resident, and now is a serum donor alongside fellow heroes Yami and Bosky.
Danny resides in the permanent residents enclosure, and is quite possessive of volunteers who give him attention. He has a very valid argument ready for other dogs who come near you while he's getting petted!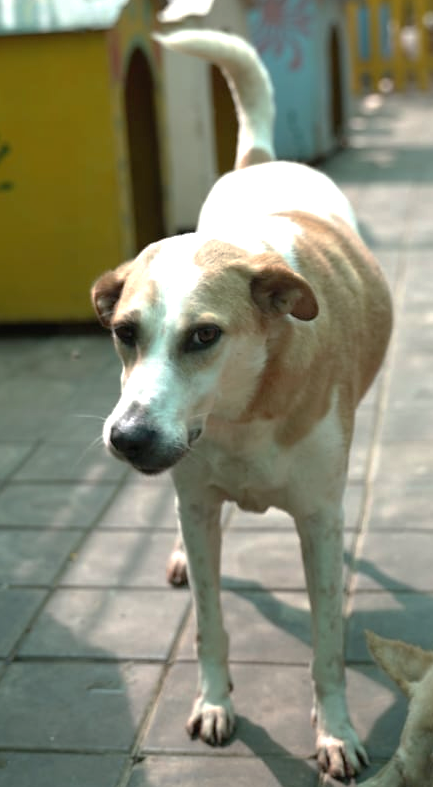 Dolly was run over by a car on a busy highway. She is completely blind and hence, we decided to have her here.
She is very curious and friendly. She has a peculiar tilt to her head which is very endearing and she does a horse-like trot when excited! She is known to have the ability to camouflage as a deer and trot around in joy. She can play the joker with her kennel doggie friends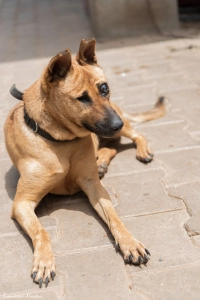 Donna came from the "House of Horrors" along with Bosky and Leah. She was emaciated and dirty. After a few weeks of good food, tonics and supplement, we realized that she was blind; but if you watched her walk and climb steps, you'd never be able to tell that she is!
Loves getting her butt tickled! We call it "Bottoms up!"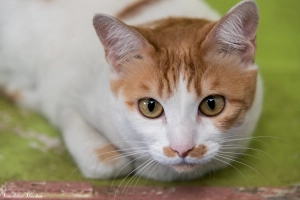 Fedor was left to die on a railway track after a hit and run case. He lost an eye and a paw in the accident, and suffered a broken hip and two broken limbs. He fought through 4 surgeries and fortunately for Fedor he received the best care he could get from Sreetama Ghosh and Aritra Nandi as they fostered him with unconditional love and care as he made a full recovery.
With 4 dogs of their own, they put Fedor up for adoption, but eventually, he came to CARE.
Fedor has a special spot for little children. He's gentle, he's playful, and really such a treat to be around.
Next time you visit, look out for him and give him a pat!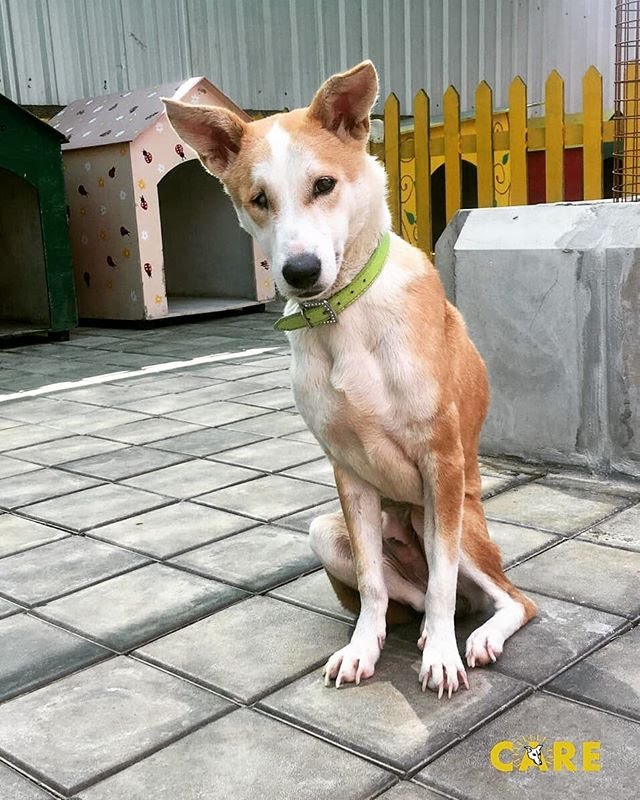 Gunda brings to mind the epic 'Hunchback of Notre Dame'.
He has a similar condition to that of Quasimodo, albeit a canine version. Its a genetic deformity of the spine called Kyphoscoliosis.
He has found a home with us where he will be safe for the rest of his life.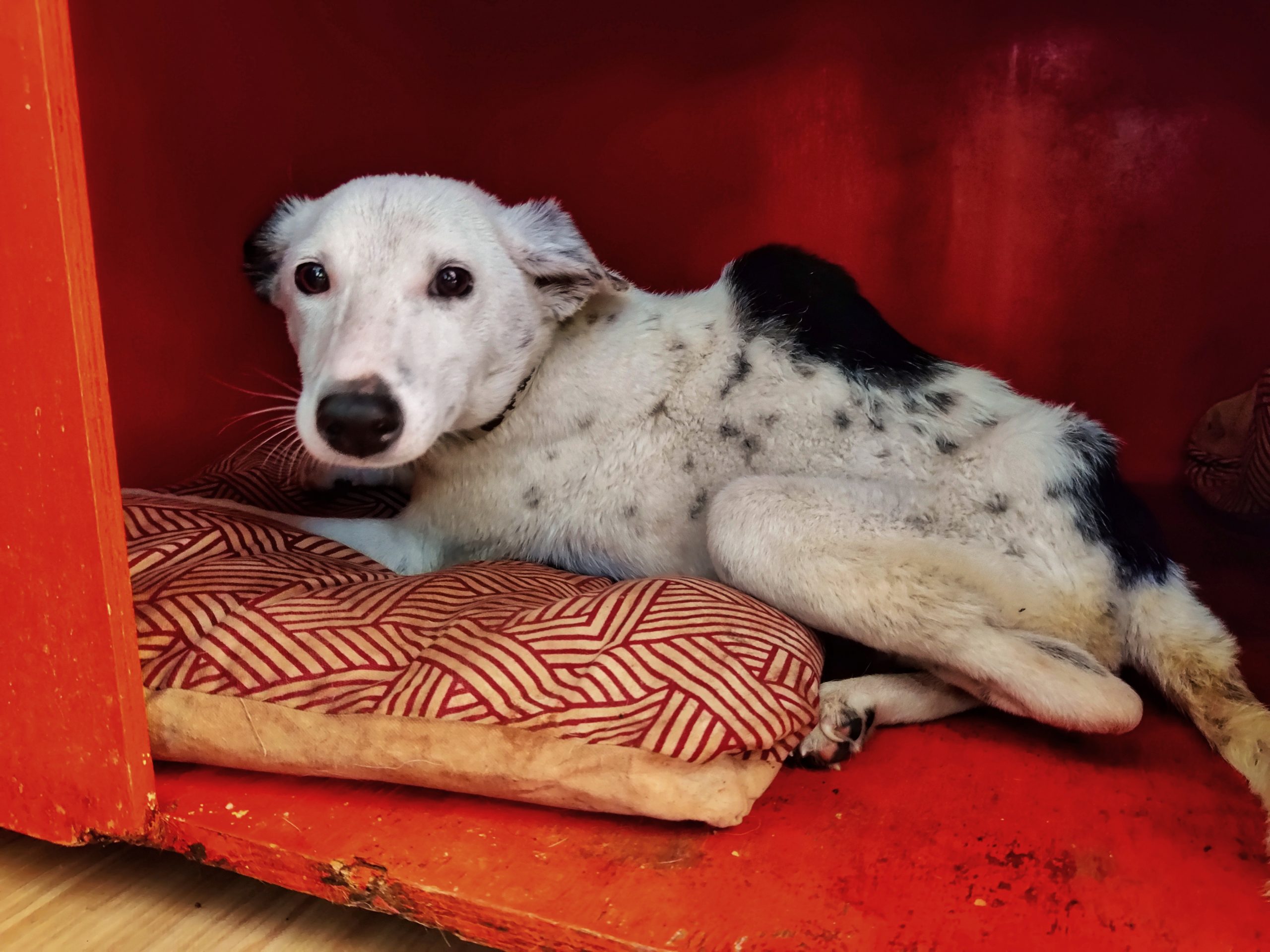 Howler as her name suggests howls all the time. Howles when she is sad howls when she is happy! Came to us with severe hip dislocation and age-related spondylosis.
Cataract in both eyes and a slight heart condition hasn't deterred her from howling.
Not an easy girl to get along with but very brave nevertheless.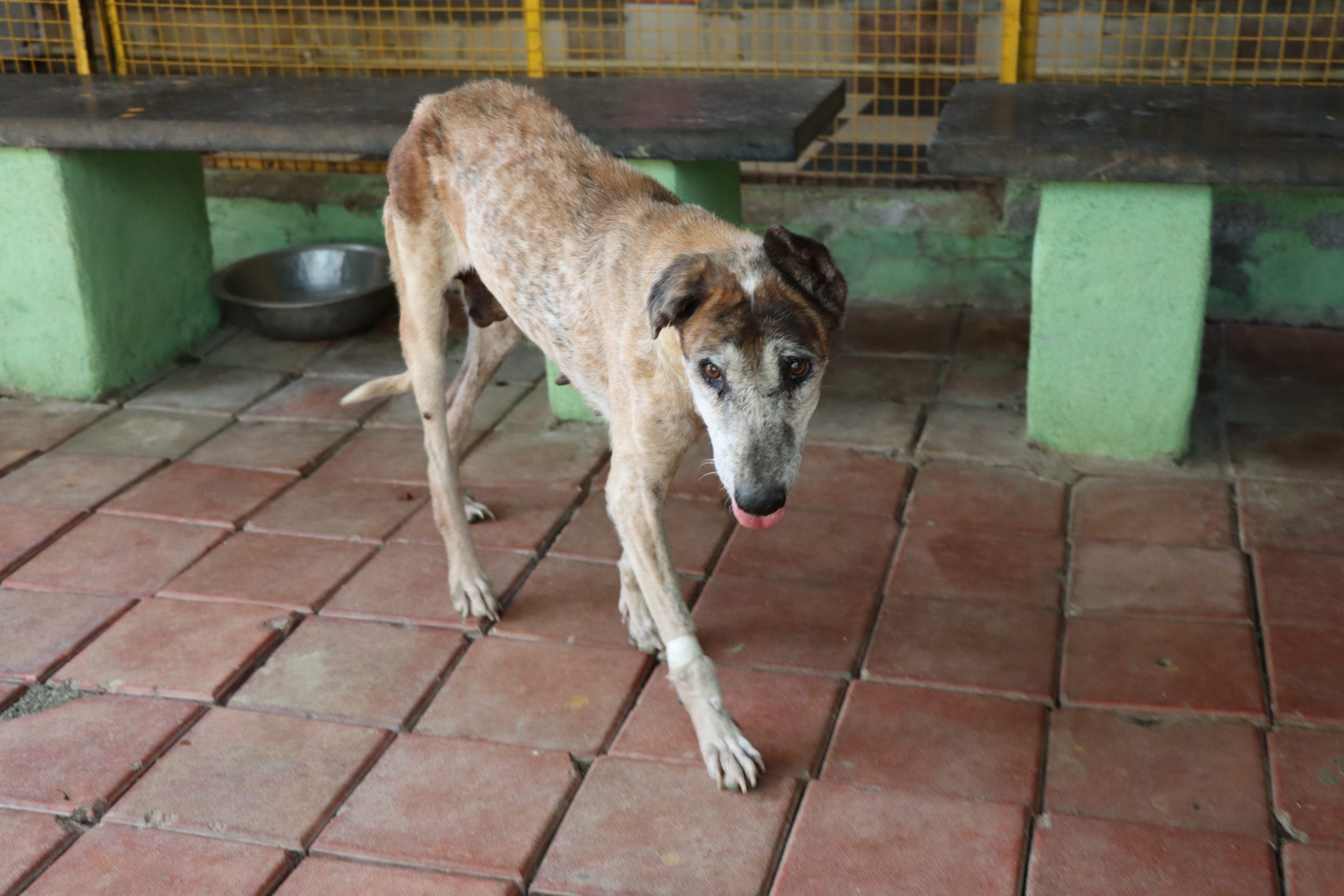 This beautiful girl is part Doberman, and was abandoned for being blind in one eye.
We initially hoped she would find the loving and understanding home she deserves, but the adoption ride wasn't too smooth for her.
Today though, she is right at home, with her friends in the permanent enclosure. Don't be fooled by that sweet face, she's quite a brat!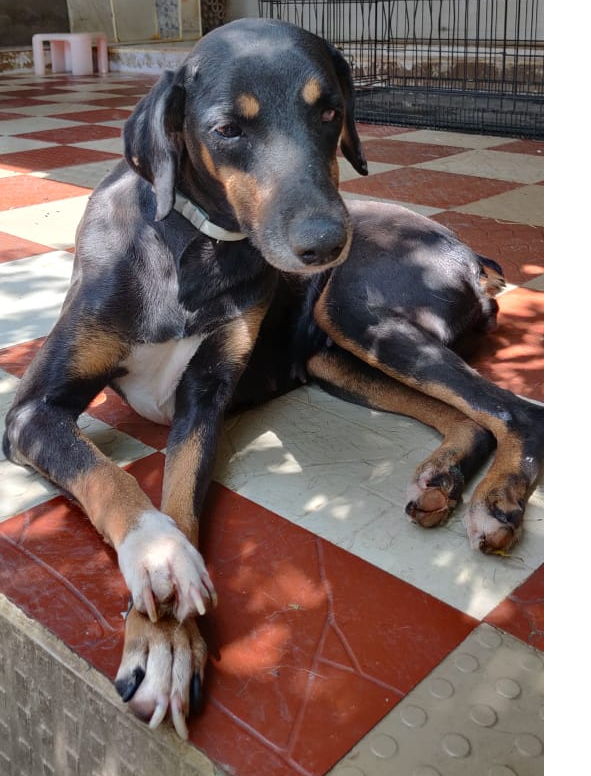 Joey is an old doggo who needs his space and doesn't get along with any other dogs, not even Sara who is from the same family. His owner had to give him up but supports us through donations of dog food.
This sweet boy loves having visitors and commands his own space next to the budgies.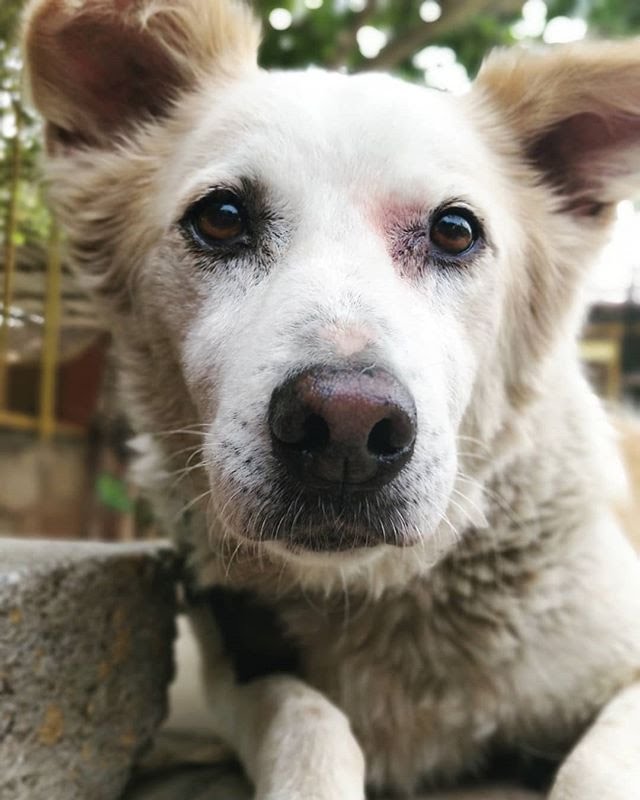 Lily is a beautiful little pup and stays in the lawn area at CARE. She has a beautiful stance and loves to play fetch with sticks. She is a hyper energetic darling who can uplift anyone's mood.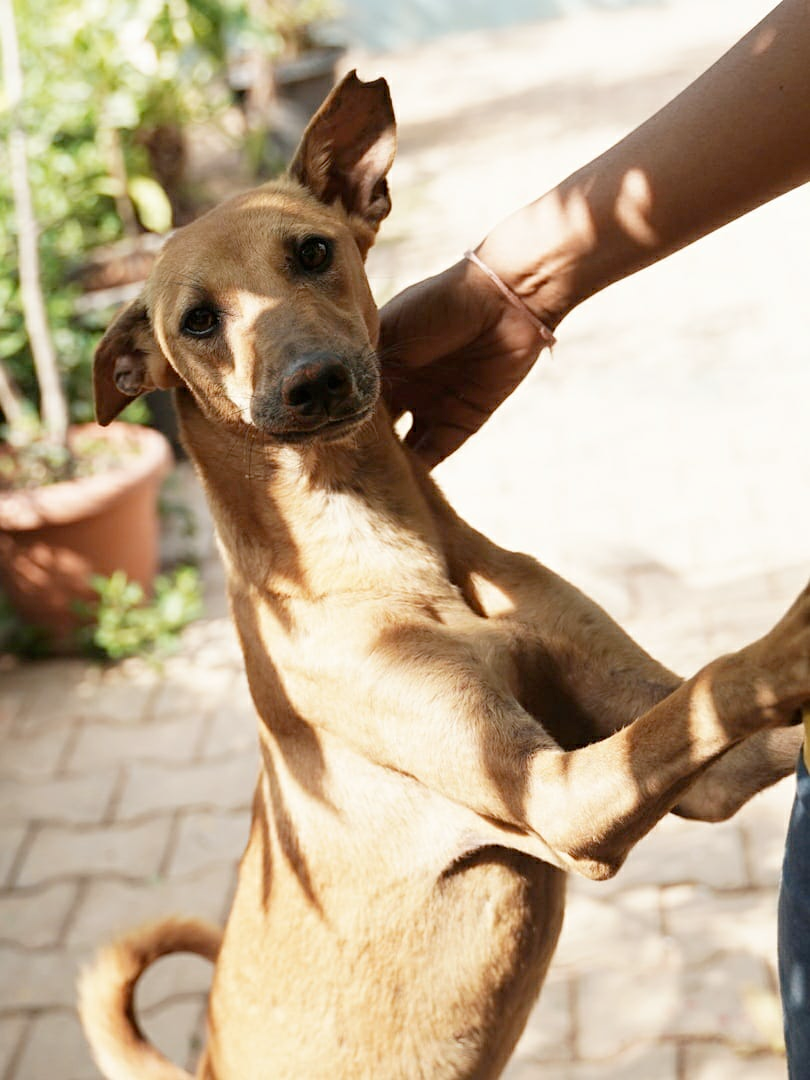 Loki came to us with fractures that had set the wrong way, leading to deformed hind legs. Looking at him though, you'll realise it's not even a blimp in this happy soul's view of himself! He's goofy, fun and always running to greet visitors!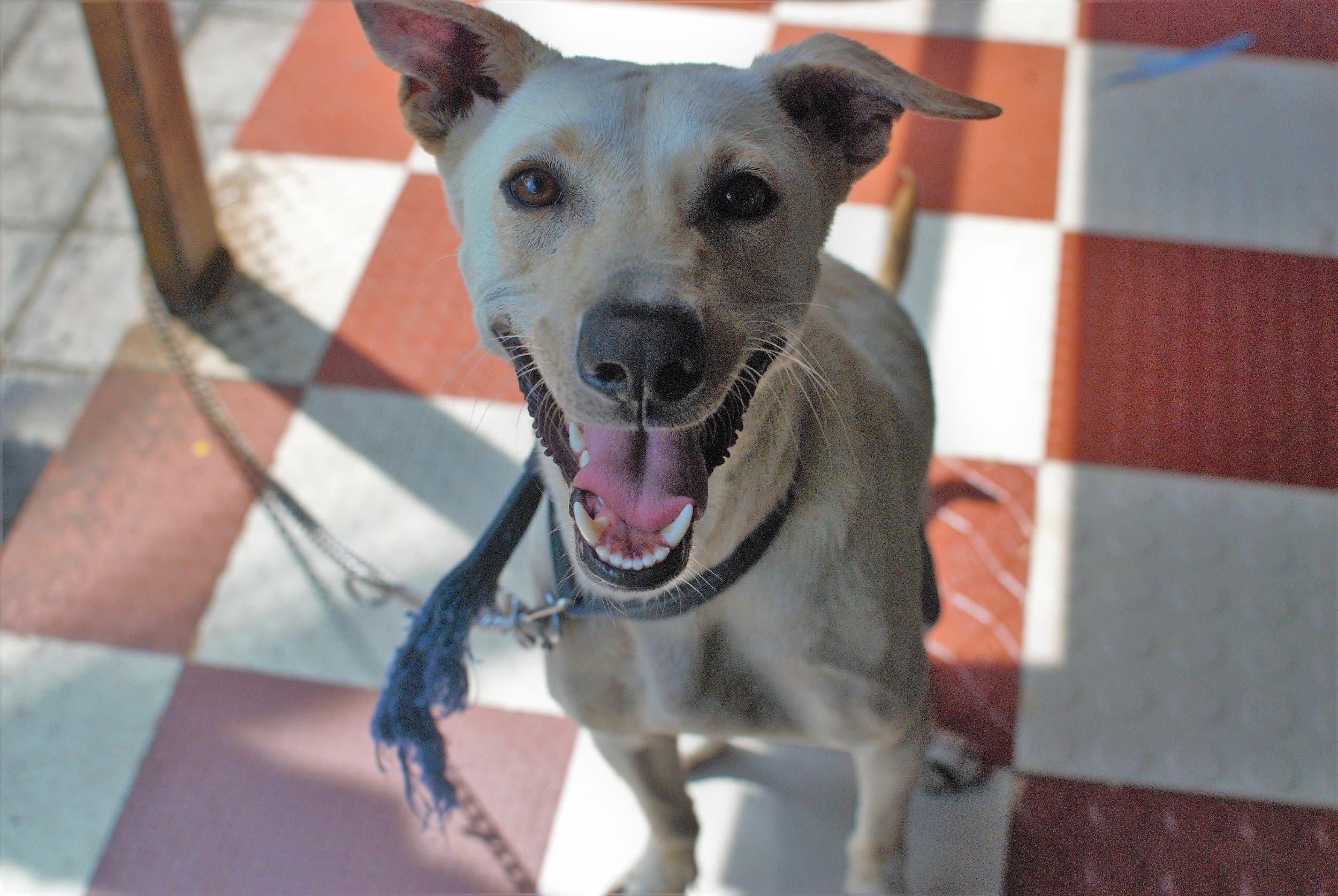 Lucy was caught in a territory battle on the street and was mauled by a bigger street dog which left her front leg severely injured. She was then rescued by Akanksha Kaushik and Usha who brought her to CARE. She soon recovered and was released back to the street where she came from. But to everyone's horror, she got picked on again by the same dog. Another fight, another serious injury on the same leg and an amputation was the only option and that's how she lives with us today.
Lucy has taken over the mantle of being CARE's canine therapist from Charlie and today she visits 2 schools to work with special children as a therapist. With the CARE staff and volunteers, she is a spoilt brat, constantly demanding belly rubs and fondly nibbling on your hands. Just watching her rolling on the floor is enough to bring a smile on anyone's face.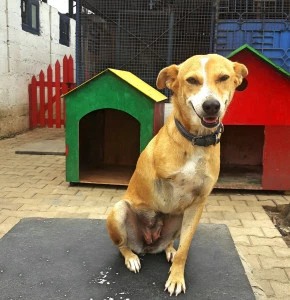 Lucky lived all his life in the streets of Yelahanka, Bangalore. But as he grew older and severe arthritis set in, along with a recurring skin condition, he found it more and more difficult to cross roads and search for food.
The residents brought him to us and we couldn't say no to this endearing old man.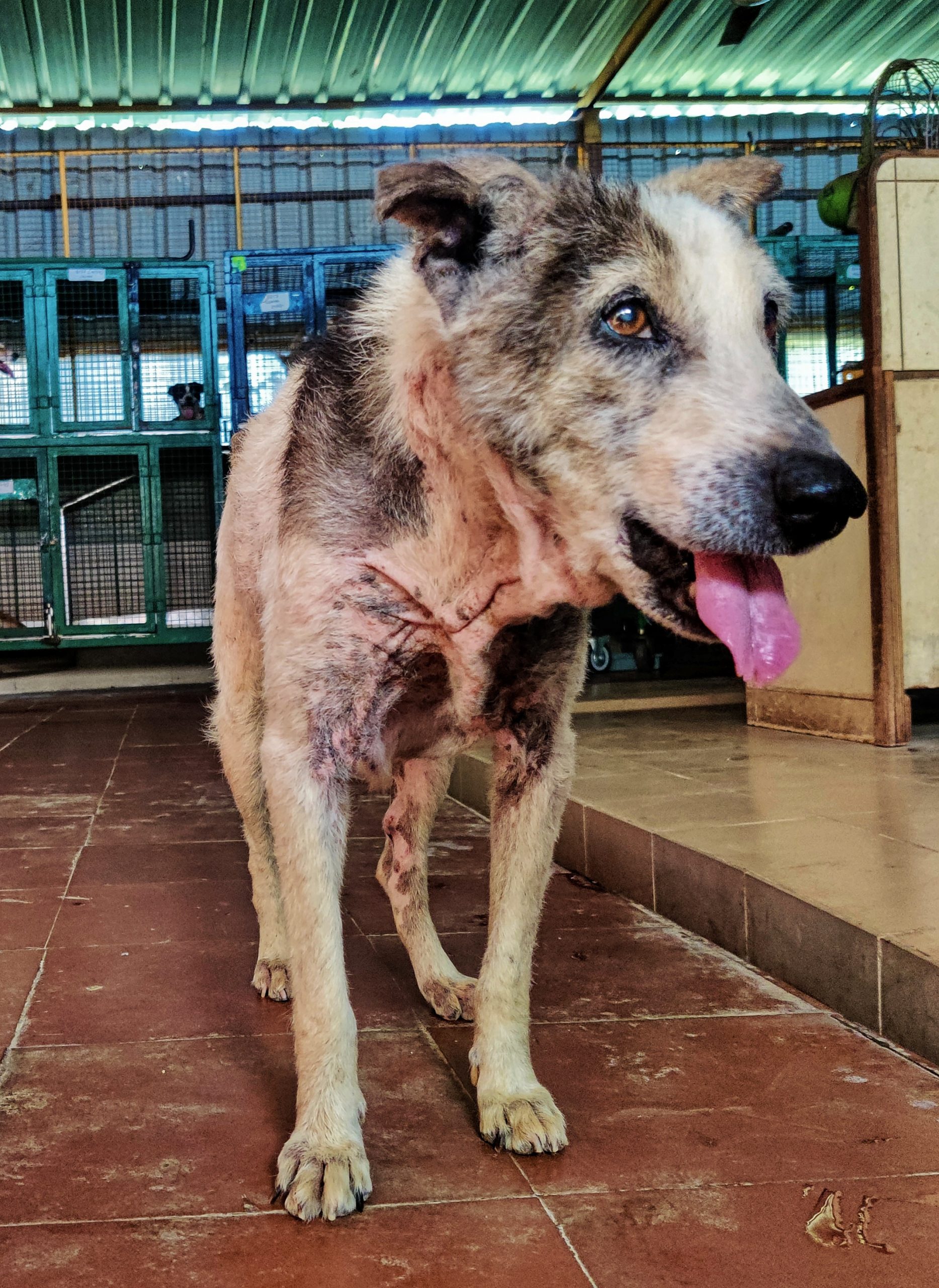 Maggie was rescued as a piglet after being run over by a bike, leaving one hind leg badly broken and her bones in a fragmented condition. With dedicated nursing by Gopal, her caregiver, she soon started wobbling around and can now walk and stand for short periods.
She is not very social, bit of a loner and is choosy about her friends. She is a very decent piggy who keeps her surroundings clean, never dirties her bowl or bed, and loves being with her best friend, Snuffles. She makes loud snorting, grunting, feet stomping noises when it's feeding time.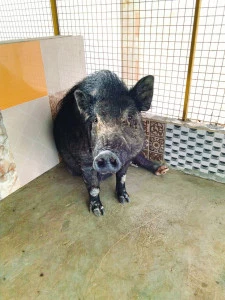 What would an 8 month old dog who is completely blind be like ?
If max is anything to go by, absolutely like any other 8 month old pup.
If you look at him, you would never know he is blind, unless we told you so. Such is his attitude to life.
He tags along the other young dogs, and is always up to some mischief.
He is a life lesson personified.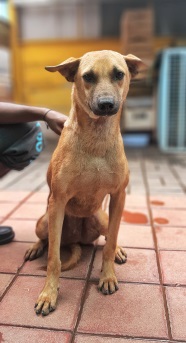 Maya had lost her hind leg in an accident. She was too vulnerable to go back to the street, so she came to live with us.
She is a very friendly and looks up at you with utmost grace as you give her scratches. Her obsession with Stumpy's legs is puzzling for all of us. She never loses a chance to make a go at Stumpy's hind leg.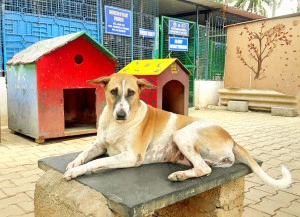 Mishka's early days were spent in an engineering college campus looked after by some students. One morning she woke up and realised that she couldn't stand or walk any more.
She was rushed to CARE where she received treatment for her neural problems and also underwent complete cage rest.
Mishka's super positive attitude and zest for life pulled her through what could have been a tragedy.
She has fought through spinal and pelvic fracture, improving over the years. Thanks to the special care given by Dr. Estella, she is up on her feet albeit a bit wobbly!
Mishka loves to cuddle up next to her human friends and she overwhelms them with her unconditional love.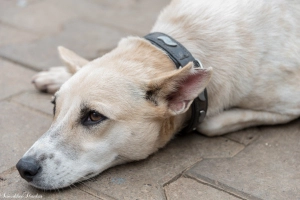 Misty was rescued from a drain that BBMP had to dig open just to get to her. It was 5 months before she allowed the CARE staff to even touch her.
She eventually allowed only one attender into her space.
She's a loner and quite territorial of her space in the OPD area.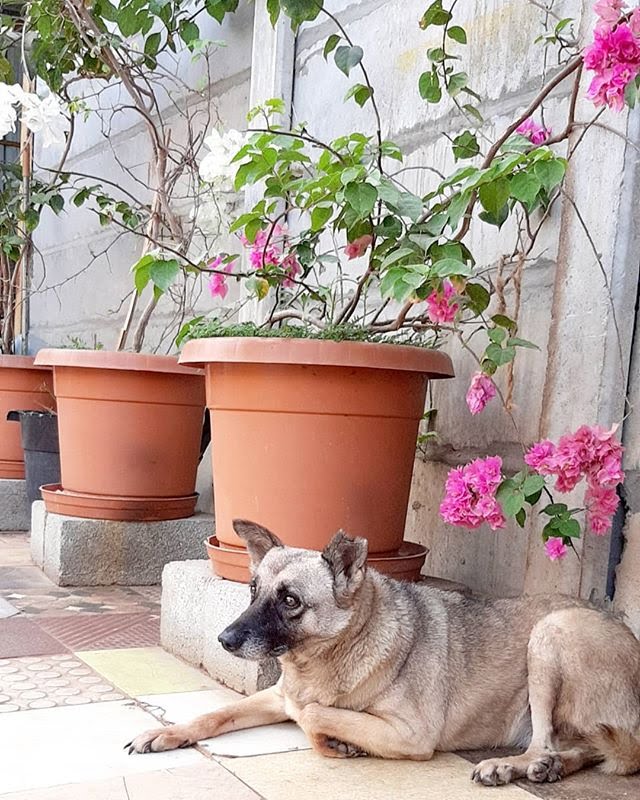 Molly is CARE's first rescue. When CARE started, she was abandoned by her owners. She was starving with a badly crushed front paw. She also had a brother Mike. Sarvodaya picked them both and handed them over to CARE. Mike found a lovely home on a farm. Molly did not. It seemed like nobody wanted Molly as they felt she didn't have much of a personality. Little did they know that below the surface lurked a very savvy doggie who has strong likes and dislikes.
People who visit CARE can fall into two categories – "Molly approved" and "Molly disapproved".
She is known to give a sharp nip on the heels to people she doesn't take a shine to!
You can't miss her because she is one of the reception dogs trio.
She used to tag behind Sudha Narayanan all the time, but eventually realised if she tags behind Sudha, she will be an exhausted doggie and so settled down to man the reception.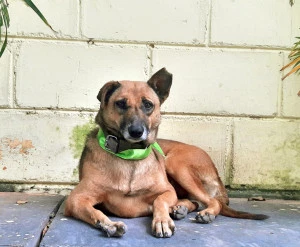 Mowgli came to us as a 2 month old pup after an accident left him with his bone sticking out and hind leg hanging.
He recovered from the surgery but contracted canine distemper. Being the fighter he is, he overcame that also!
Even as they complain of his naughtiness, the staff and volunteers of CARE end up pampering him. He's the darling of the shelter and an absolute joy to be around!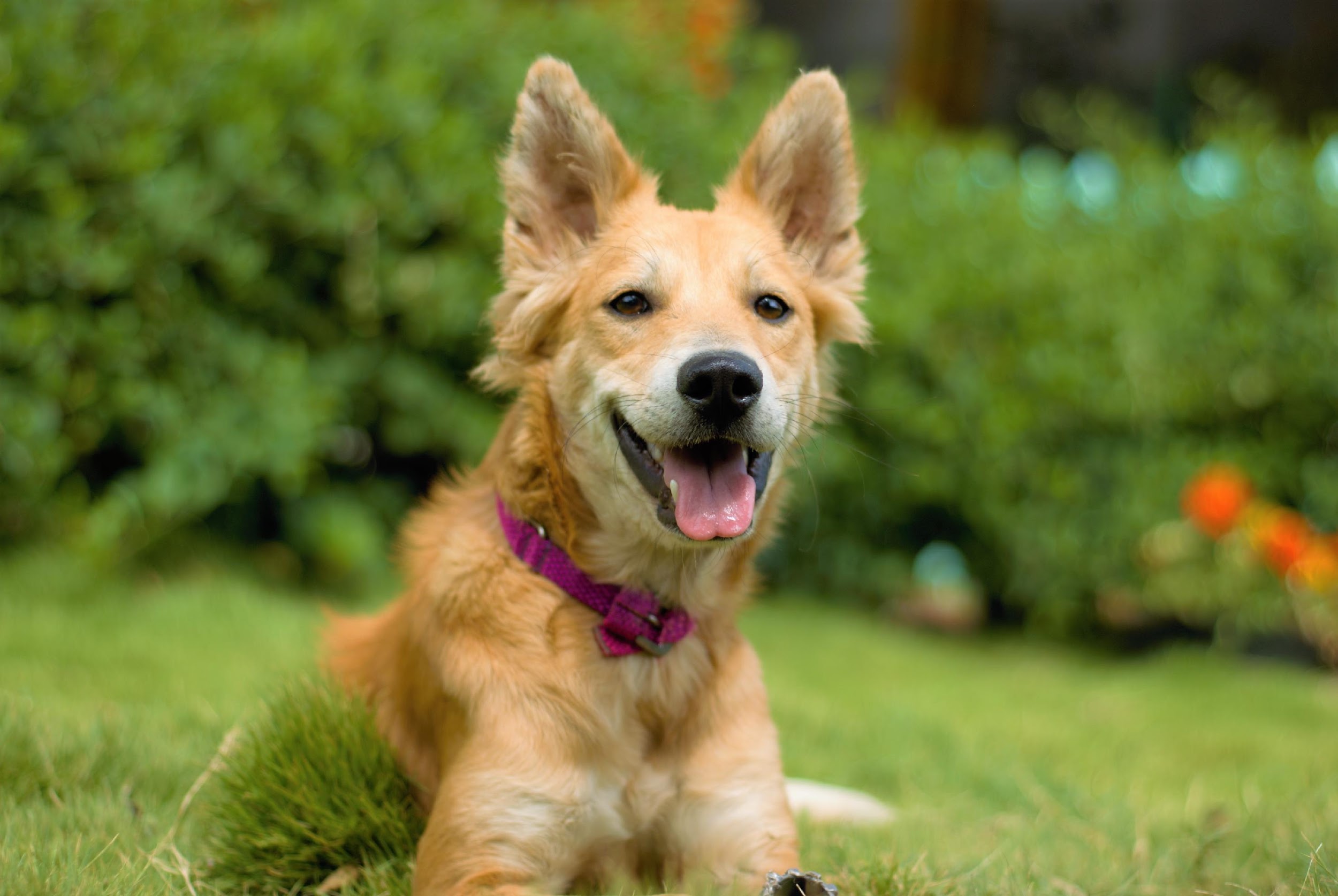 Murphy was found lost and running on the roads, in a starved condition with a badly broken leg. He soon healed but developed a severe gum condition which makes him drool continuously. Nobody came forward to adopt him because of this so he stayed on with us.
He is a loner, choosy about his friends. He will not allow any other dog to come between him and the humans he loves. Also, he is always ready for a game of hide and seek.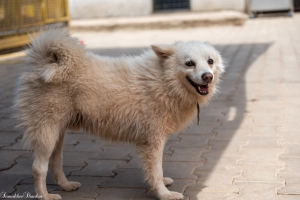 Nanny (white) was brought in for adoption but developed CD and couldn't be fostered or adopted.
Night (black) has a similar story that led to them both being in the same enclosure. As you can see, they're best friends!
As you make your way into the permanent resident enclosure, these two bouncing fur balls are sure to catch your attention in the Super Trooper area. As much as they are best friends, you'll find them pushing each other to reach out you. They are probably constantly at a game of "Who gets more scratches?"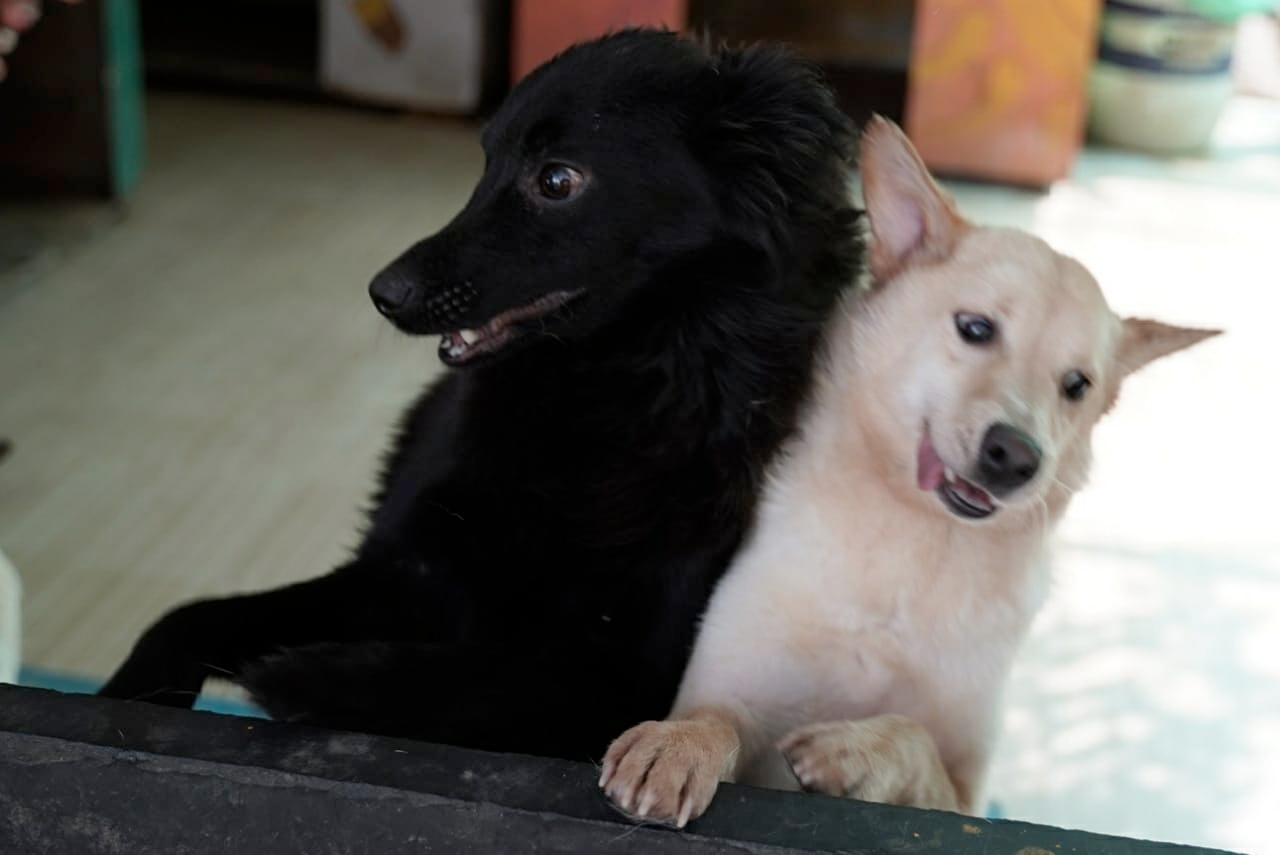 Needle was brought to CARE with a mangled hind leg that could not be amputated for various reasons. Her leg healed in a peculiar position and she stayed on as she was not able to fend for herself on the roads.
She is a friendly girl but also likes to be alone at times. She makes a funny high pitched yowl when she wants to draw your attention to something.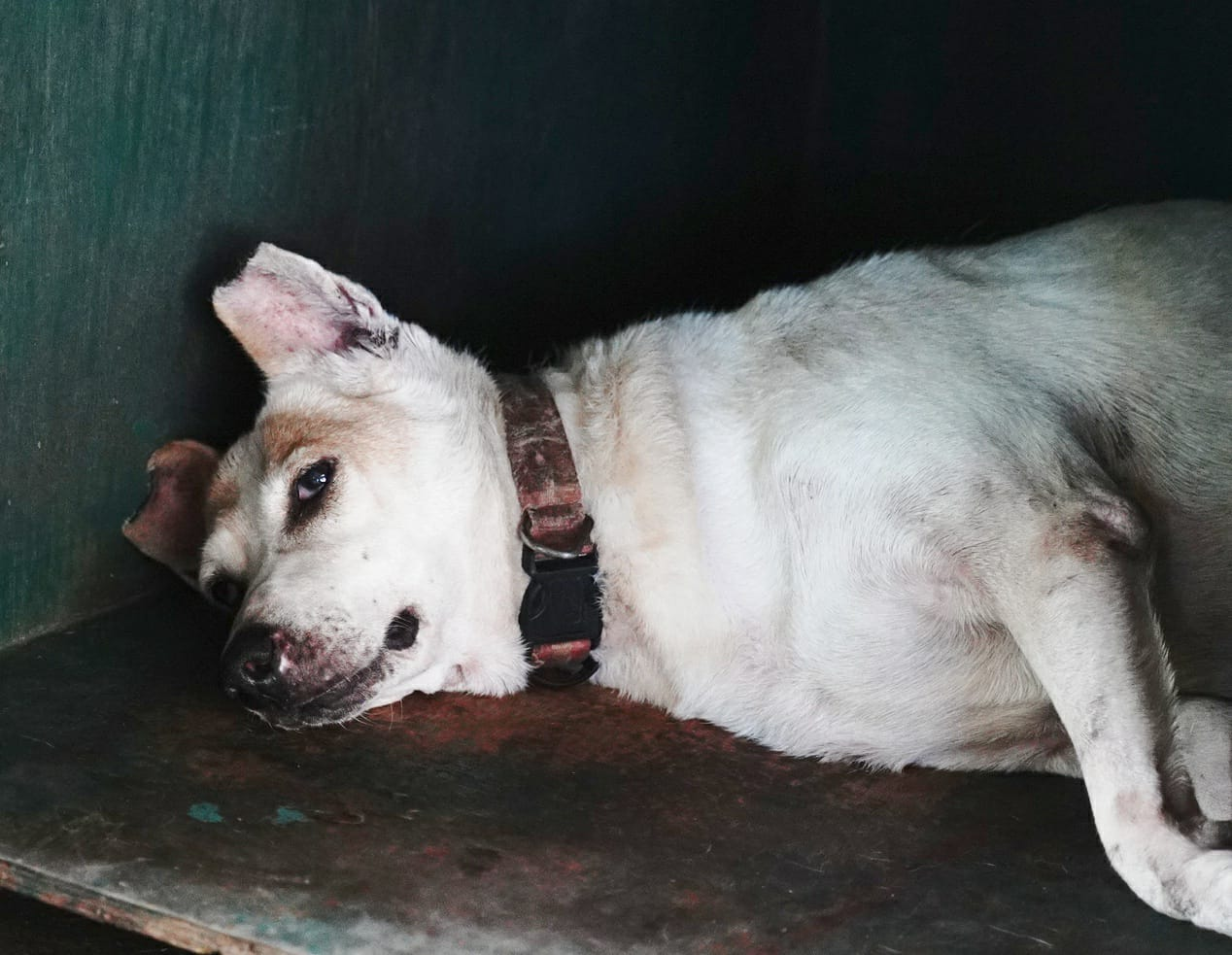 Nice is named after the Nice road where he had an accident. He was taken to another shelter but the lack of space there brought him to CARE.
He's among the most vocal dogs in the permanent residents' enclosure, usually found discussing issues of the day in conversational howls.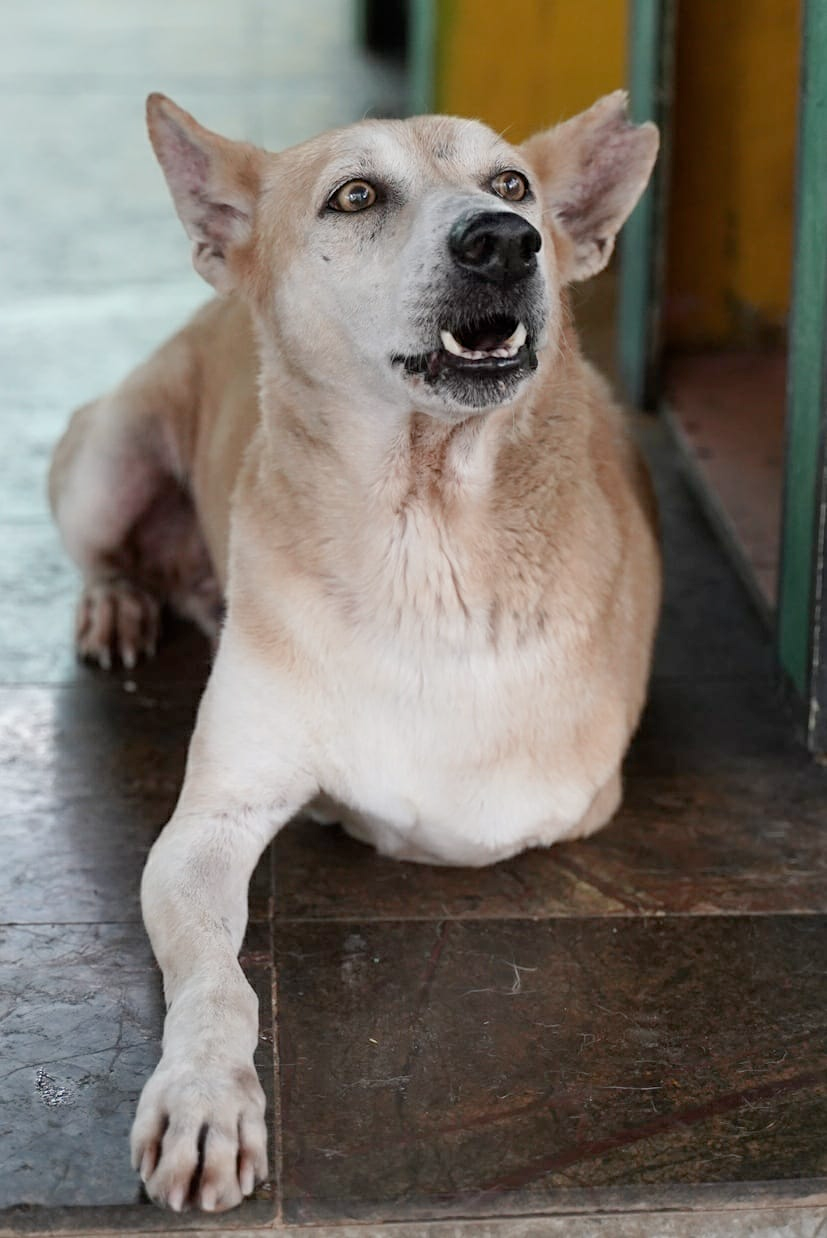 Raja,true to his name, lived like a king for most of his life, lording over all the other dogs of his street.
But as he grew older, he lost the battle of the kings to younger dogs, and would often get bitten and injured.
As so often witnessed in history, this Raja was overthrown. His guardian realised that he could no longer continue to be safe on the streets and requested CARE to give him a safe space so he can live out his life like the true king he was.
He came to CARE and settled pretty quickly in his new kingdom called CARE.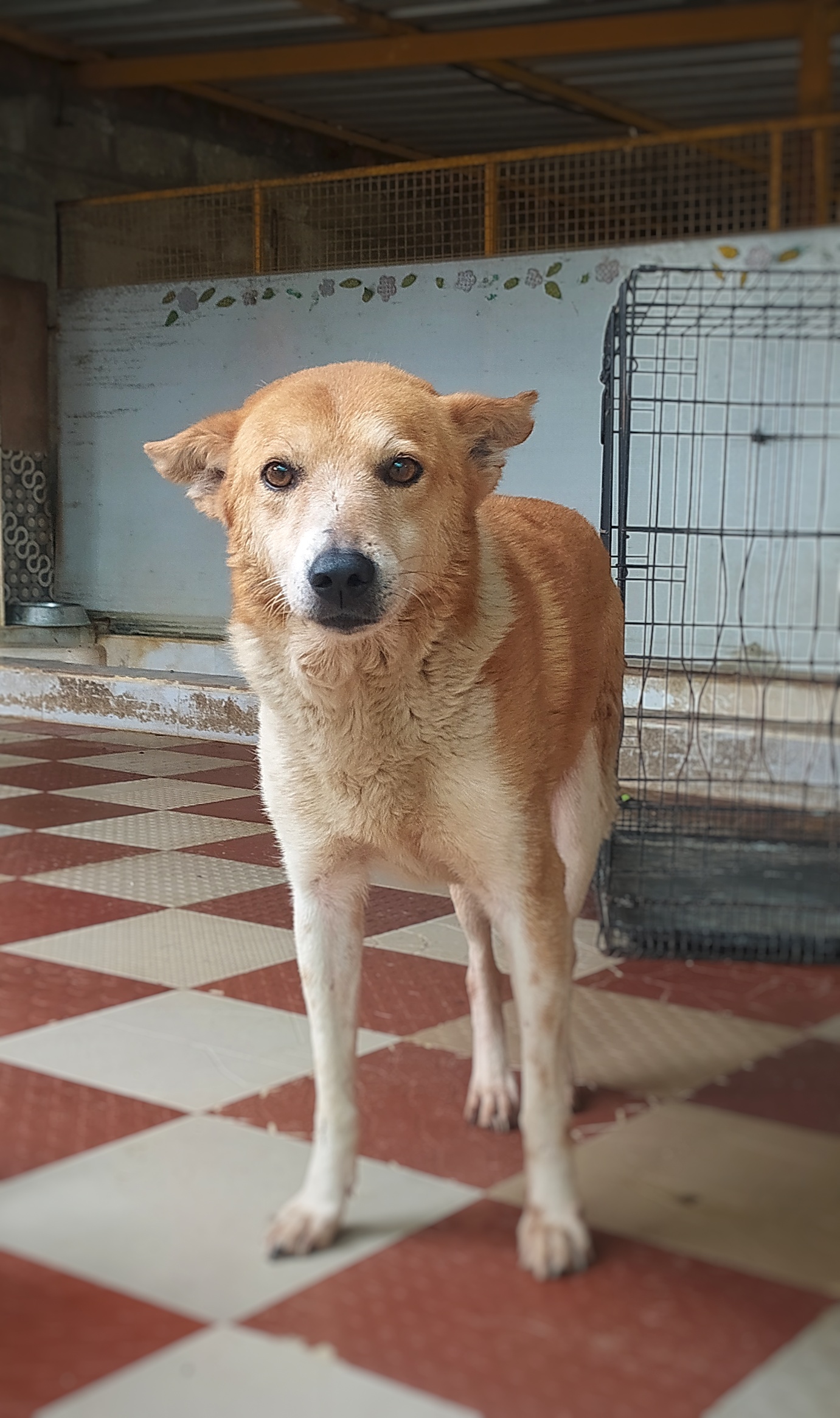 Rambo was found abandoned in a locked house a few days after his owners had moved out. He can't hear very well, but is content to be in the permanent enclosure, safe in his space.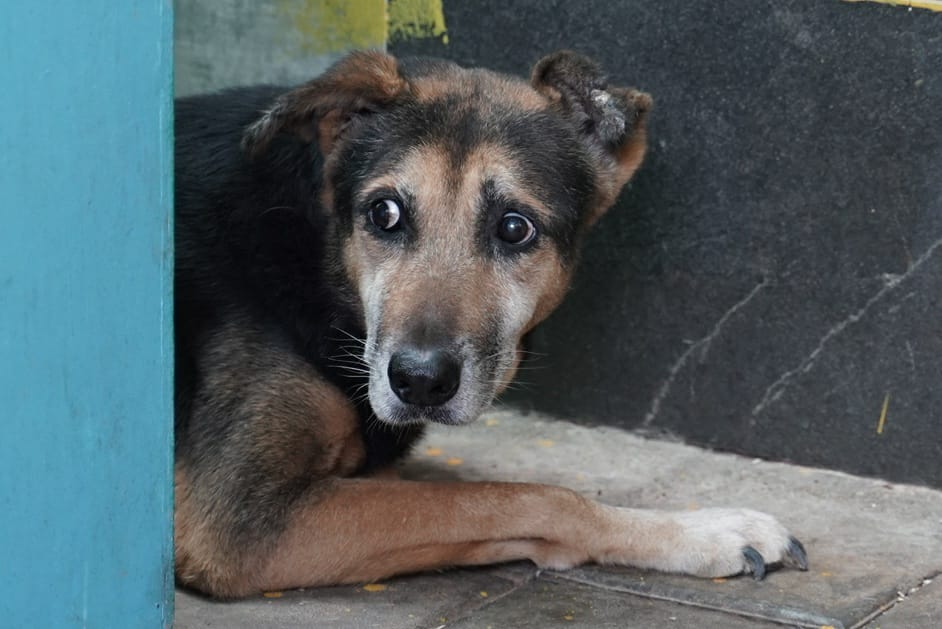 Rani was hit by a car right in front of the shelter, and went flying up in the air. Though her body was luckily intact, she lost both eyes and is totally blind.
She is a friendly girl. She can 'see' her way around even better than the dogs with sight; she can sense your presence near her and will seek you out for petting and pampering. Her hero and protector at the shelter is Schiffy.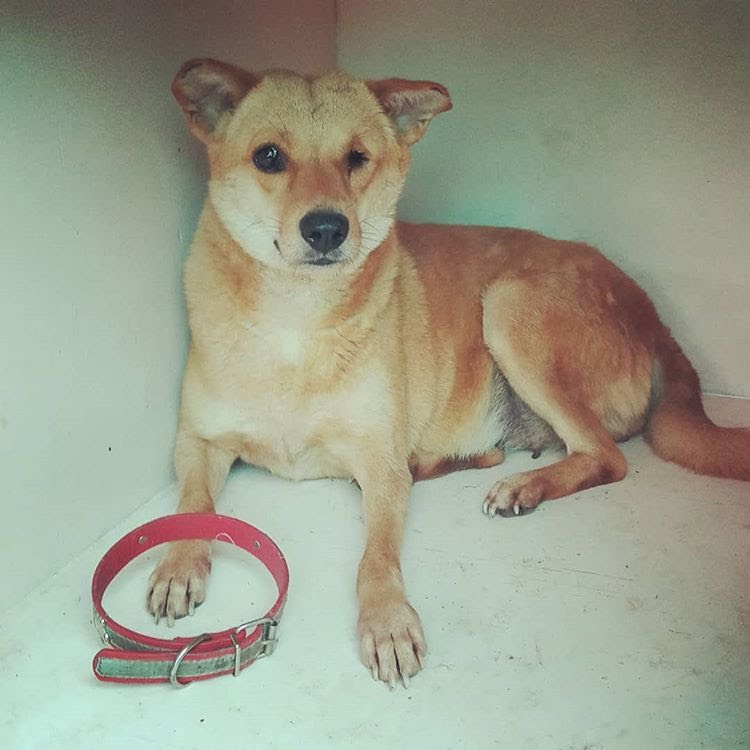 Rocky was found by Shalini Menon with both hind legs in a terrible condition post an accident.
Her recovery was so dramatic that it was almost unbelievable that she was the same dog after a few months. She made a very quick recovery thanks to Dr. Estella D'Cunha and Dr. Amitha.
Today she is one of the naughtiest dogs in the shelter and will nip you silently and you 'll wonder who pinched you. We call her the 'Flying Pup' after seeing her dash around the shelter even with her injured leg.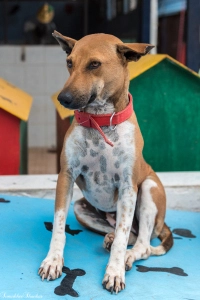 Aka Jigaroo came to us when he was 50 days old after a series of heart breaking issues like parvo virus, being bitten by a bigger dog which left his hind legs crushed, an accident that almost removed half the flesh on his back.
He is very naughty and sometimes temperamental (mostly as a defence towards new people, especially if they're in a group).
The darling of the shelter, he is always upto some mischief. Can destroy boxes full of toys, can chew your jeans into half, can eat a whole shoe lace and can dismember smart phones in a jiffy!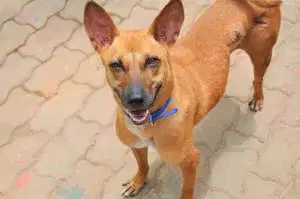 If you look at Roo-pup today, you'll find it hard to believe the condition he was found in.
He came to us from Jakkur where he was found lying in a ditch. He had terrible skin issues that left him absolutely hairless. As the issue was contagious, we were not allowed to handle him much. He would cry endlessly to be pet.
He started to get better but his compromised immune system resulted in him contracting canine distemper.
Today, he has overcome all the issues, and all you see is a very naughty pup who loves to splash around and tease the permanent residents. He's best friends with Clifford and Lily.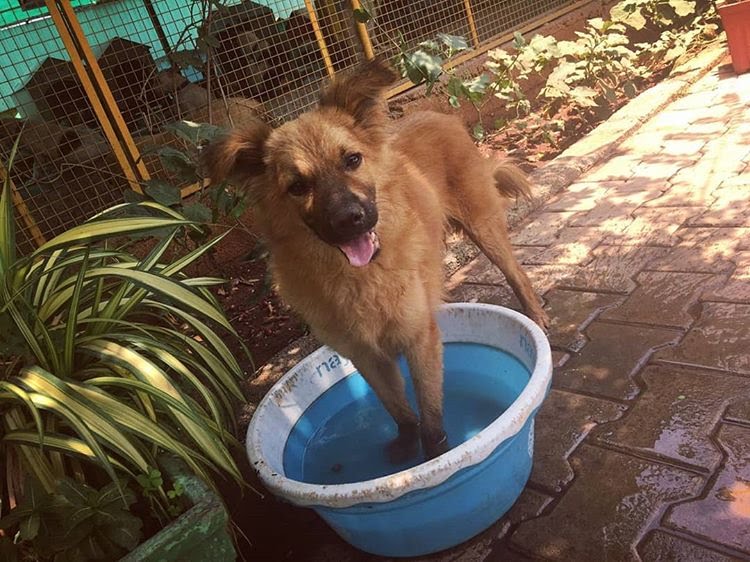 Ruby was rescued after she met with an accident as a wee pup. Her hind leg couldn't be saved and she had to undergo amputation surgery.
She hasn't found a home due to this and lives with the rest of the Gangs of Charliepur, contributing in her own, small way to the mayhem caused by the Gang!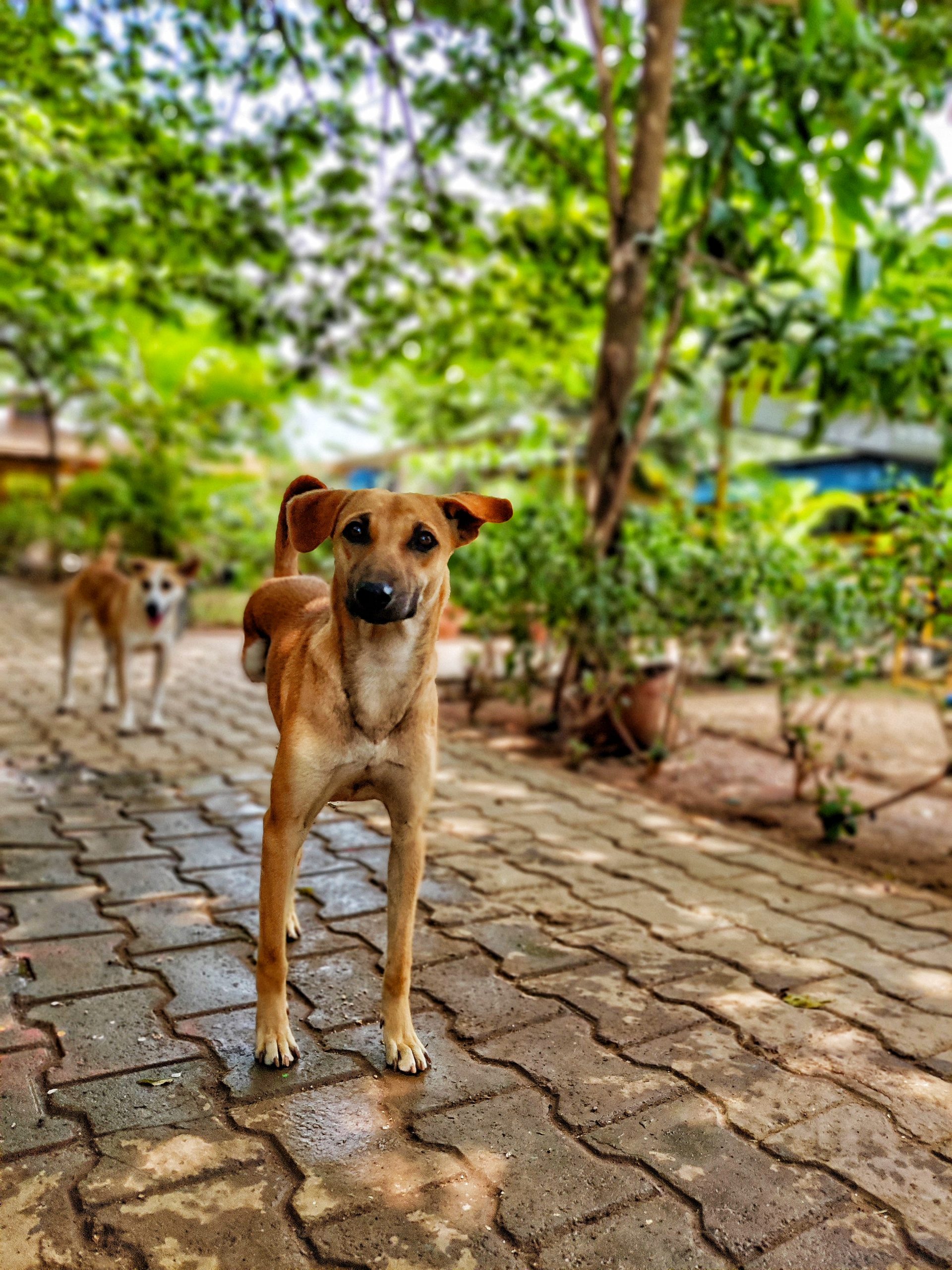 Sam was brought to the CARE shelter a few months ago with a huge maggot wound on his face which had destroyed one eye completely and partially damaged the other one. The sight of him could make even the hardest of hearts shudder. But somewhere in there, there was a warrior who wanted to fight and survive to tell the tale.  With dedicated treatment and  prolonged rest in our postoperative recovery cages where we ensured utmost hygiene for months together, today we can finally say that he is almost healed and has regained sight in the remaining eye.
We couldn't bring ourselves to drop him back on the street so he stayed on. Despite the nature of his injuries and what he went through, he's a curious boy and friendly too.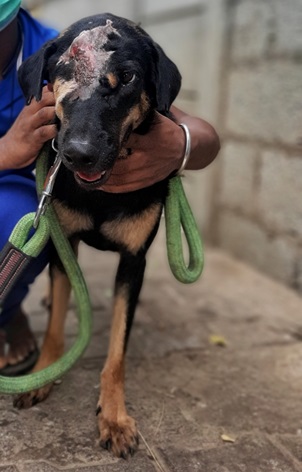 Sara is a big woolly bundle who doesn't understand her size, which sometimes makes her jump on people to smother them with her love, they could easily fall down but she does it anyway!
She was left at CARE as she suffers from severe urinary incontinence. With medication and therapy, she has gotten much better but has to be kept clean always.
She loves human attention and makes puppy dog faces when you pay attention to the others around her.
She loves to be walked and will dominate you throughout the walk; will suddenly jump on you and ask for a cuddle.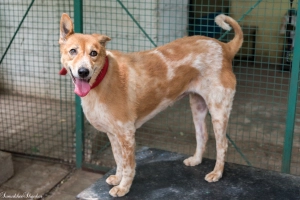 Scooby was involved in a terrible accident and was brought in to be euthanized. However, the team at CARE couldn't just give up on him, and they were successful in saving his life.
Scooby was best friends with Kunju, another paraplegic dog who came to CARE around the same time, and they would always play together.
Unfortunately, Kunju passed away and Scooby took it very hard. However, when he was moved to the permanent dogs enclosure, he recovered from his depression and is one of the friendliest, naughtiest dogs there today. Don't let his face fool you! He can be very demanding when it comes to pets. He will get in your way as move through the permanent residents area and nibble at your pants till you give up and start paying him attention. Also, he keeps possession of his favorite humans and makes his point heard if any other dog comes near.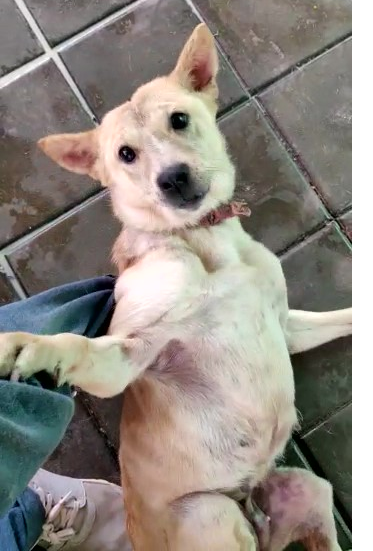 Our very own Shelly. A red eared slider, who's fast on her feet and knows how to strut around with atmost grace!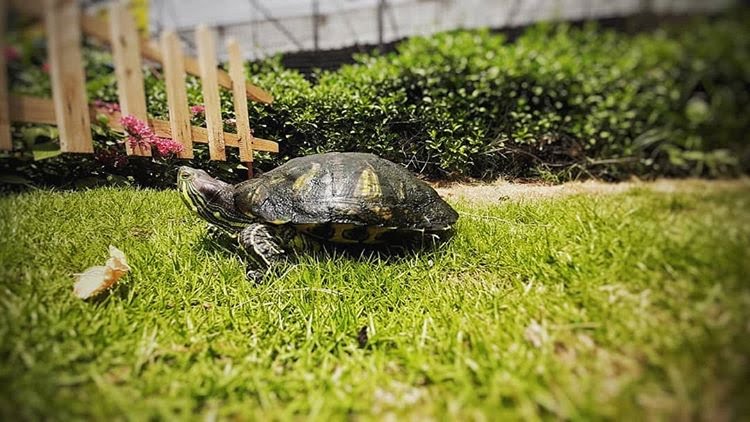 Sweet little Shilpa was rescued by the police when she met with an accident. Though she recovered well, her hind leg has a permanent disability. Shilpa has gone through numerous adoption queries, camps, etc but was always rejected because of her deformity. For us, she's very special and has a place in our hearts forever.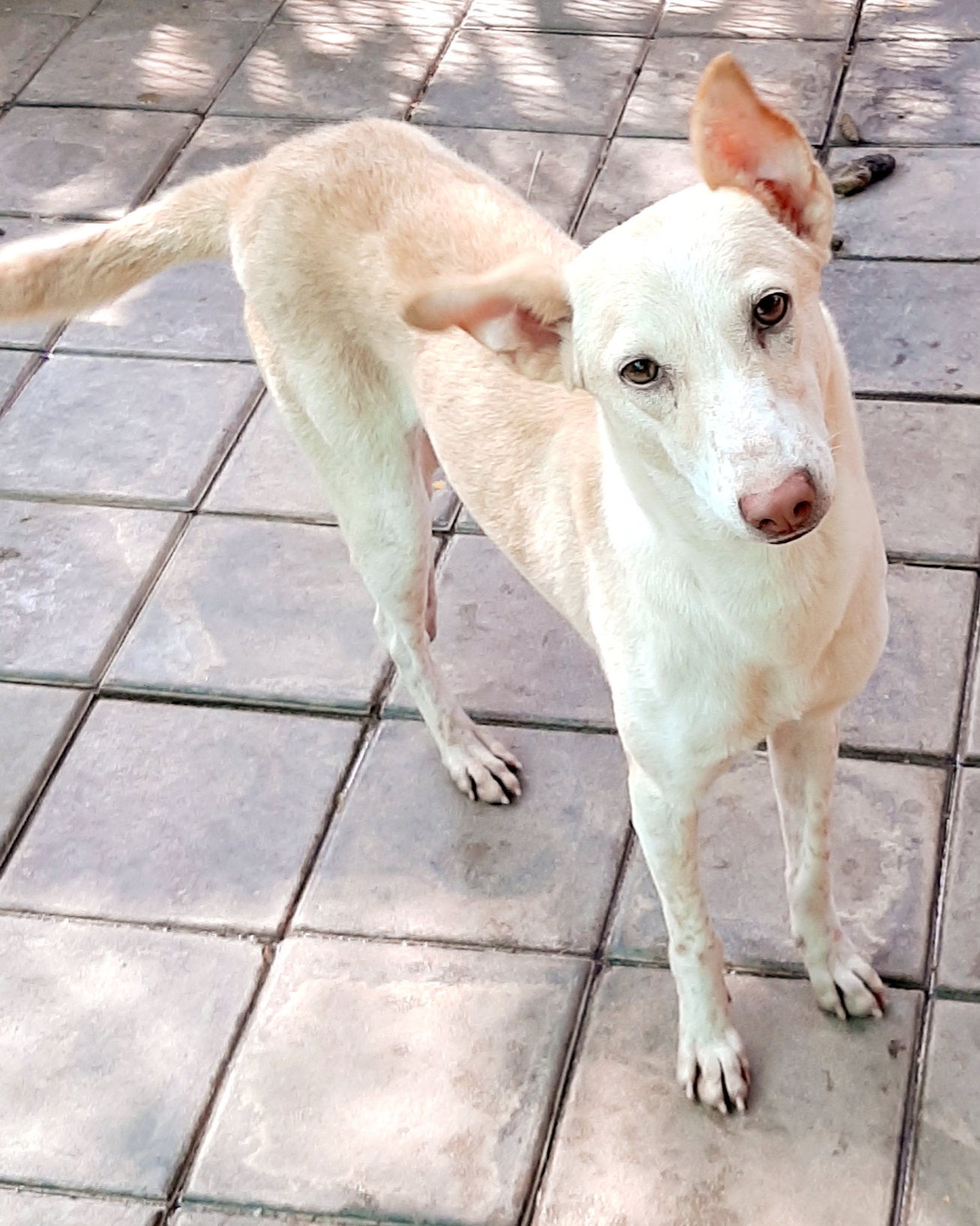 He came to us with both hind legs crushed by a car. The bones were exposed and he was under severe stress. Once the stumps healed, he was moved into the permanent cat residents' enclosure for rehabilitation. At first he wouldn't move at all and expected his food and water to be brought to him. It took days of coaxing him to come out and meet the other cats.
Our patience was rewarded by his effort to move out of his cage. He loves to lie in his basket and watch the others play. You will love the way he glides about on his two front legs!
Simon is not very friendly, and doesn't like being handled. Durga though, has managed to wedge her way into his heart and basket – she's the only one he shares his space with!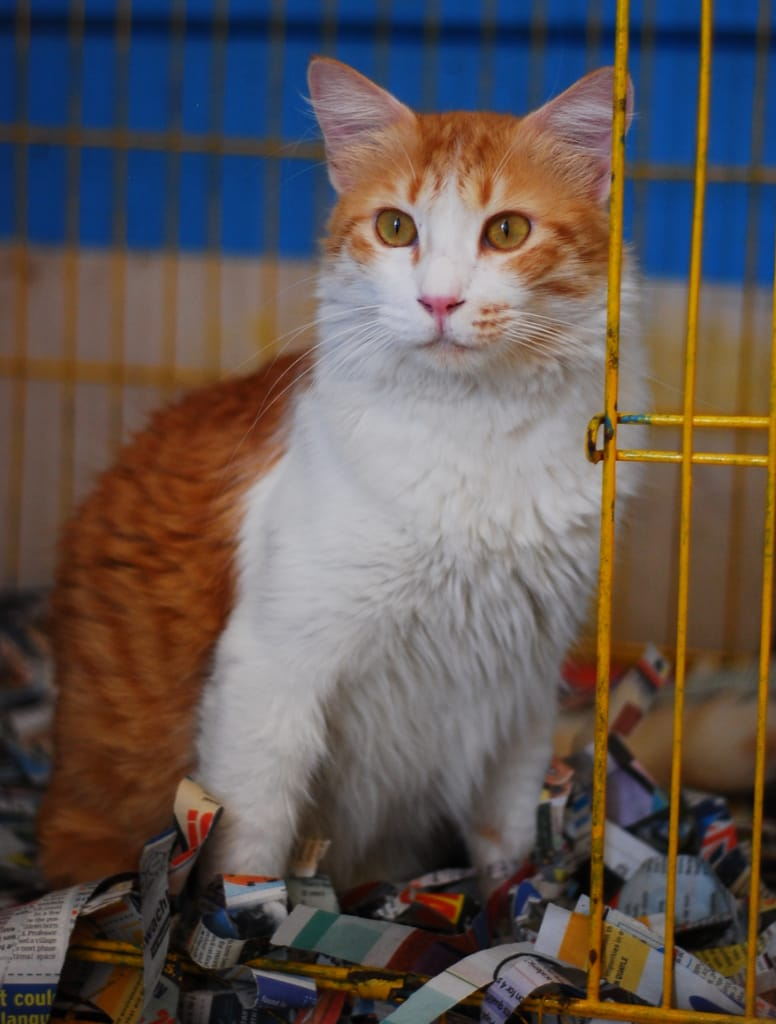 Siren is a recluse who came to CARE after being in an accident. Her leg had to be amputated and the streets are no place for a three-legged cat to live.
It was decided that she would stay at CARE, and she now spends her days basking in the sunshine, catching up on well-deserved rest.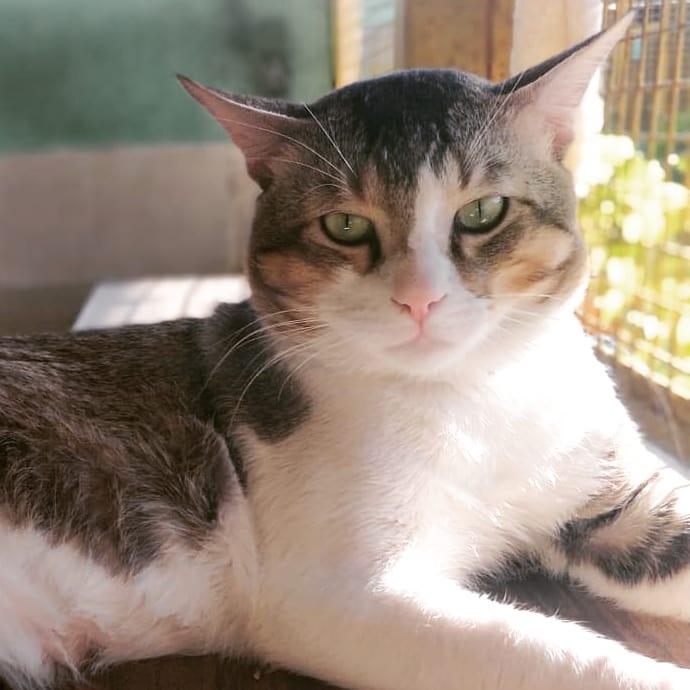 Smiley was born with a genetic deformity in her spine leading to weak and stiff hind legs. She was hand-raised by a rescuer till she was able to fend for herself and then we took over.
She had an odd endearing walk which makes her so special.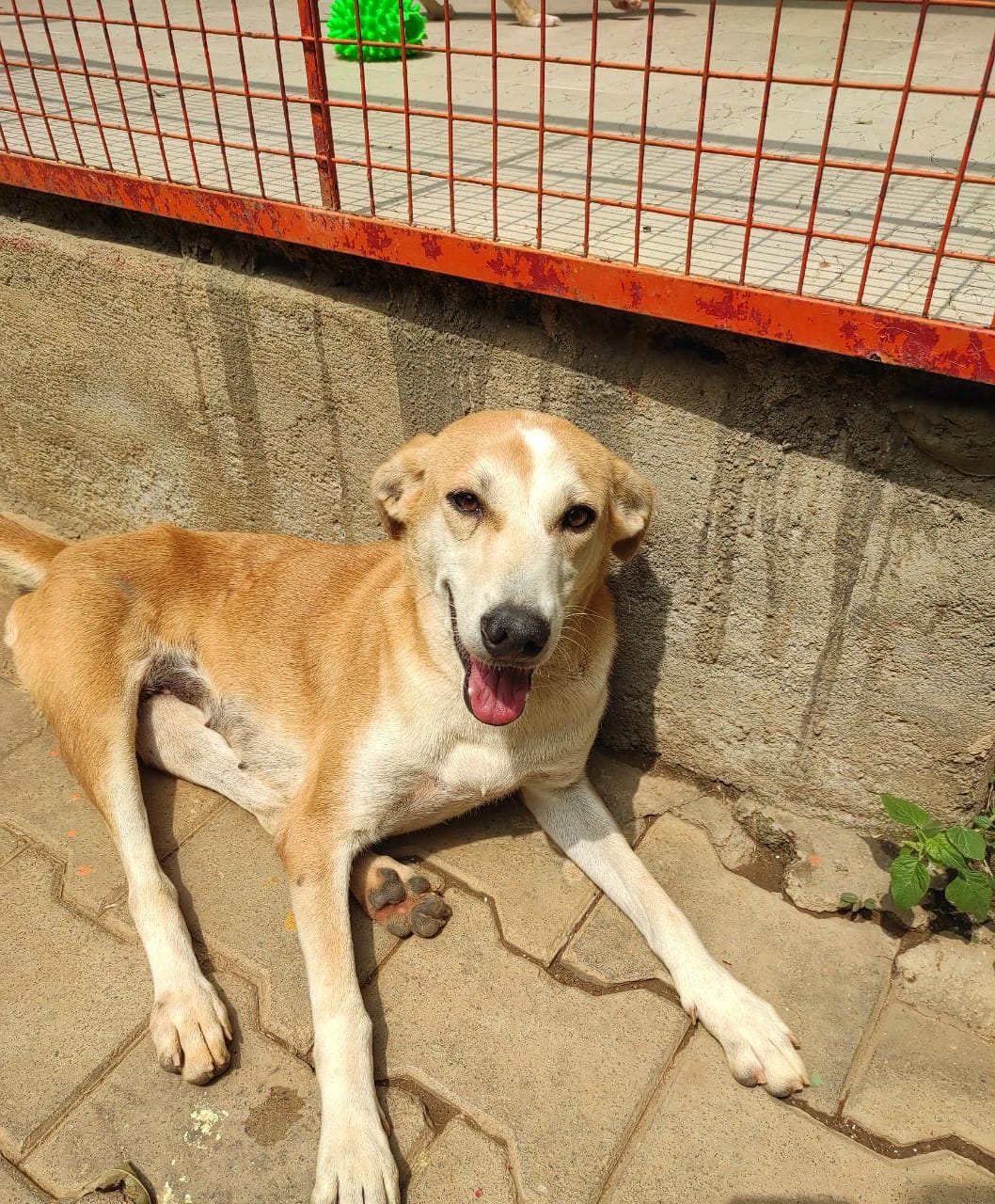 Snowy was abandoned in Yelahanka. He was found following strangers at random, and begging them to take him home.
Rescued by Jaysal, he now lives with his friends in the Superstars enclosure. He greets everyone who passes by his enclosure and asks for a pat.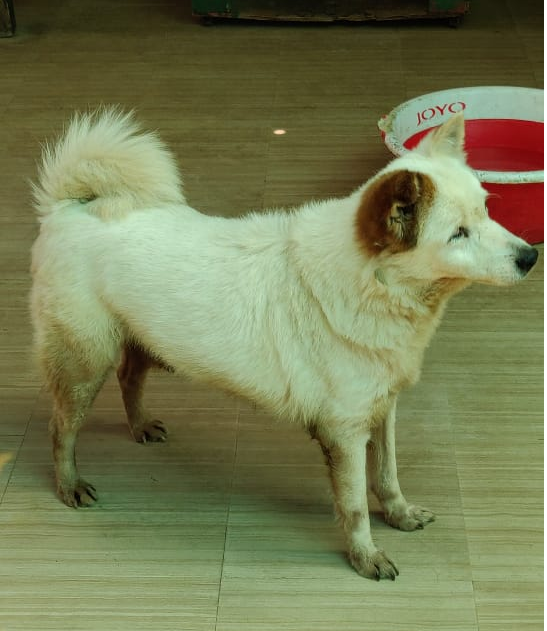 She had been bitten by dogs, her flesh was in bits and pieces. The wounds took a month to heal during which she formed a strong bond with her caretaker, Gopal. She eventually made her way to Maggie's heart and they are now BFF's.
Snuffles is friendly, social, and loves to respond with small grunts when you talk to her, especially when you use her name in conversation.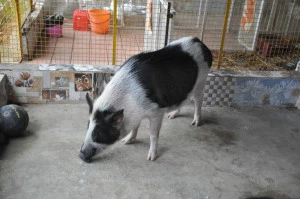 She was found lying on the pavement completely still, almost left for dead. When she came to CARE we realized that in addition to the multiple health issues she has, she is also completely blind and with severe spondylosis.
Now she has learnt to walk again, can find her way around her enclosure and is happy to make friends.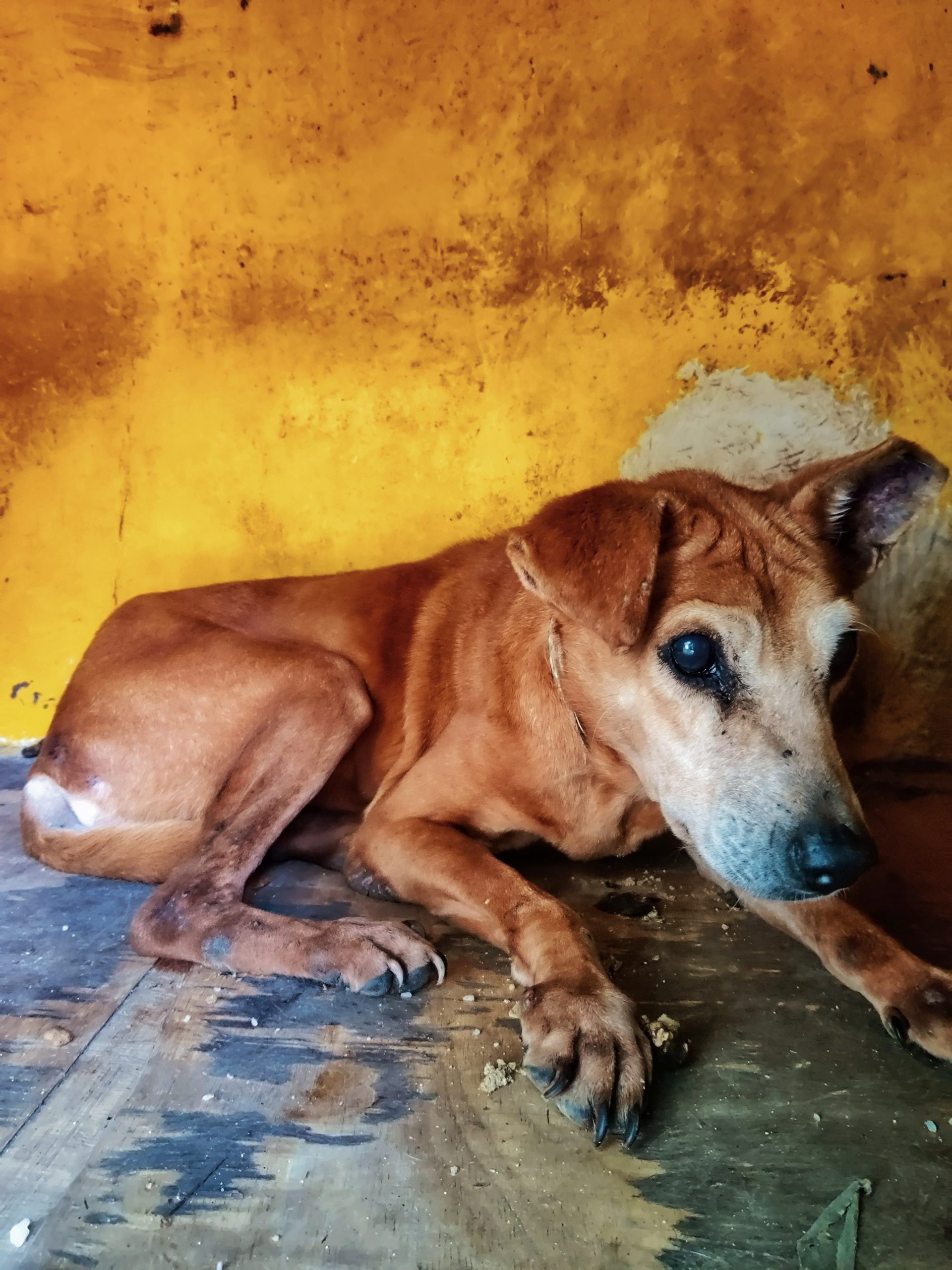 Spunky suffered a terrible accident which rendered her hind legs paralyzed. We felt she would lose the use of both her hind legs permanently, however, we worked on her intensively with a lot of laser therapy and now she manages just fine. She has a lot of spunk & grit, and so the name stuck.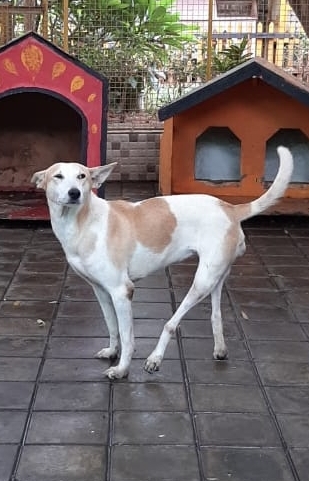 Stumpy came to CARE with a huge tumour growing on her tail. The cancer was removed and with it the tail. The nickname 'Stumpy' stuck.
She is very friendly with a beautiful temperament.
Easily one of the most good looking dogs in CARE with her gorgeous golden coat and doe like eyes, she knows how to wrap everyone around her furry paws. Loves people, loves playing, loves life.
Being the other half of the "Terrible Twins" duo, Stumpy has another side. She is now the official canine therapist for CARE. She is wonderful with the specially abled children she works with.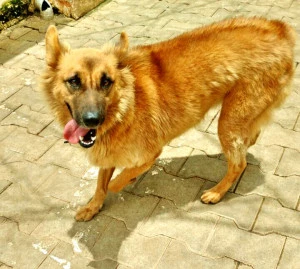 A gruesome accident shattered her hind leg into pieces rendering her helpless, bleeding and in unfathomable pain on the streets. 
When she came to CARE, we knew that the road to recovery would be a long, arduous one given that she had a compound overriding fracture but we had made up our mind, that we were going to be right next to her at every step. 
She required a major surgery, followed by rest and some uninterrupted TLC. Laser therapy proved to be a boon for Sweetie. She eventually stood on her own, and her leg could finally bear the weight of her body. 
Sweetie's recovery was indeed a sweet victory for all of us at CARE. 
We couldn't bring ourselves to drop her back on the street, so she stayed on at Care.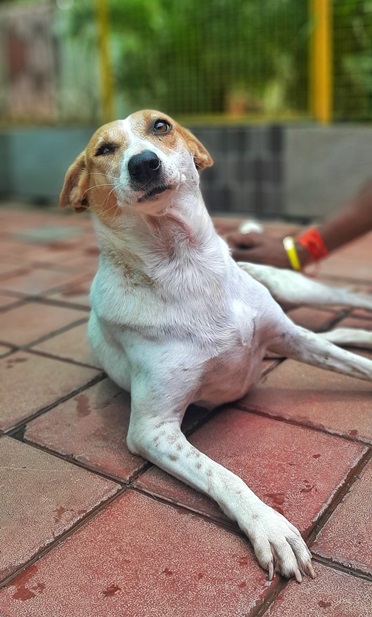 He was brought to the shelter as he had a severe skin infection. He belonged to a young couple who sent him in through a rescuer. He healed soon and was released back to his family through the rescuer. However, on the same day he was to go home, his owners met with a gruesome accident and were never seen again. We took him back and he now lives with us.
Teddy loves to cuddle up to you, and will not tolerate any other dog coming in between.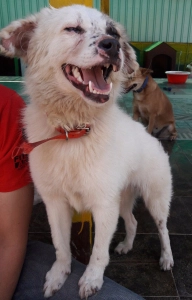 CARE wants to disprove the hypothesis – "no one would want to adopt a three-legged dog." We have great faith in our followers and well-wishers – we know people can look beyond a dog's outward appearance.
Tiger (brindle) is a perfectly normal, healthy dog. Now, while humans might consider a missing leg a handicap, dogs don't. This boy can do anything a four-legged dog can do – he is playful, energetic and even protects his little pack!
He may have three legs but he has the same heart of gold like any other dog out there and maybe even more of it.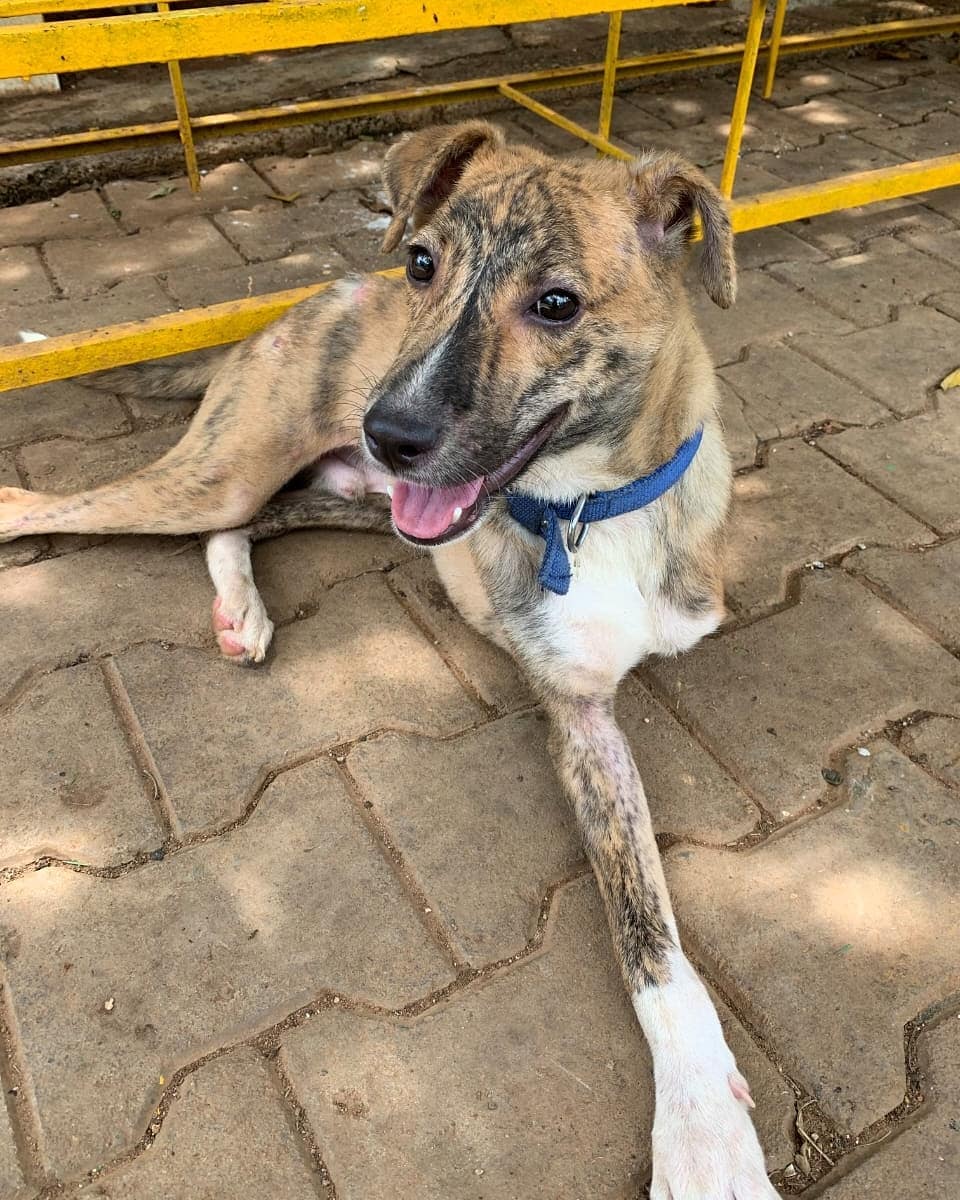 Tiny or Bholi is a little firecracker of a package. Found by Tamanna at the Art of Living Foundation campus on Kanakpura road with a severe spinal injury, she was shifted to Dr. Lohith's care where after 2 months of concerted effort she learnt to use her hind legs again albeit a little wobbly. She was shifted to CARE where she soon became a part of the naughty dogs gang.
She is the loudest, most feisty dog in the permanent resident area and was thick friends with Scotch, the lab who had a penchant for grabbing your purse, mobile phone etc. Tiny used to take her revenge by having a go at Scotch's collar.
Tiny reminds us about the saying, it's never about the size of the dog in the fight, it's about the size of the fight in the dog.
Looking at her hopping around at super speed in spite of her severe disability makes us proud of her.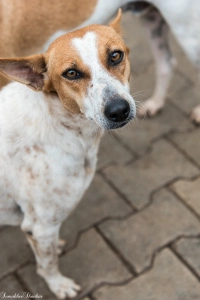 Tommy aka Baahubali came to CARE as an adoption pup but developed a very bad case of the dreaded Canine Distemper.
While he couldn't go back, he's a regular serum donor for other CD-afflicted pups that need help. Baahubali indeed!
Baahu takes credit for starting most of the dog fights but he is a darling with humans. He greets every visitor to the permanent residents area by standing up on his hind legs and leaning on them with his front paws.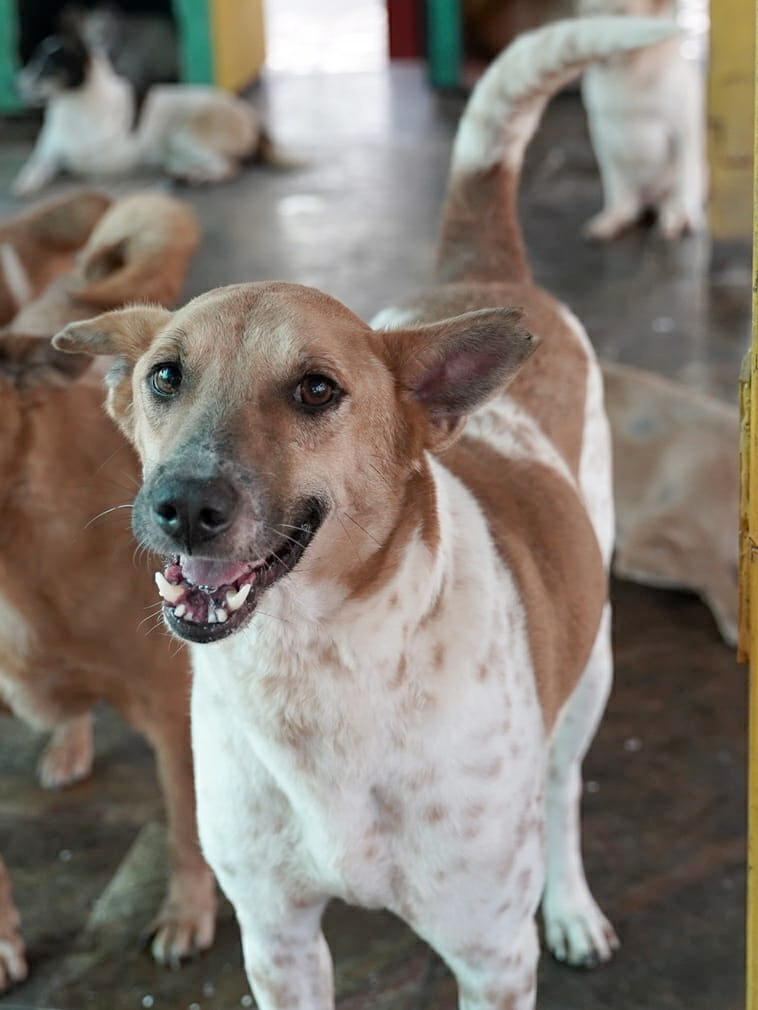 Valentine was rescued by Anurag Varma who found her on the streets limping around with a crushed front paw that was hanging by a thread. It was then we realised that the paw was mangled beyond repair with the bones broken into tiny fragments. This would make it difficult for her to live on the streets, and she has stayed at CARE ever since. She has a history of illnesses like tick fever, etc. which she has overcome.
This sweetheart is called Valentine because of the heart shaped marking on her forehead.
Valentine is one of the sweetest dogs in the shelter with a very gentle temperament. She frequently comes up to her favourite regulars and bestows them with cuddles.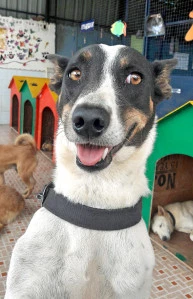 When we first saw Video aka Jumping Jack, we burst out laughing! He was a beautiful brindle-colored package who kept prancing with his hind legs lifted in the air. But we also realized that this was a serious neurological condition that needed immediate attention. Sadly he was tied to our gates so we have no idea where he came from.
Today he's the master of the treatment area, carefully supervising every action the vets take.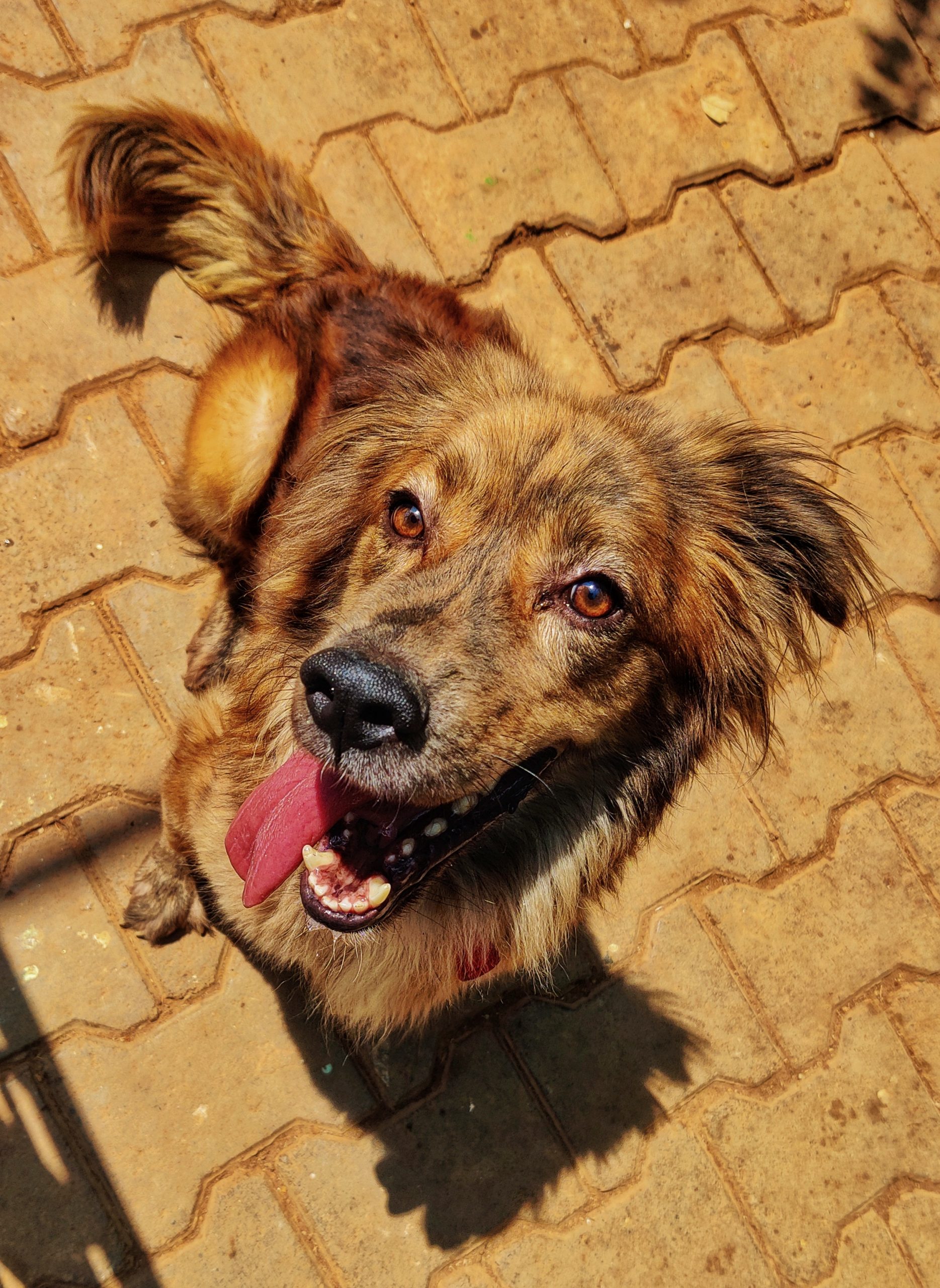 Yami was rescued by Satbir Multani with acute canine distemper. He is one of the lucky few who survived it but continues to have leg tremors even during sleep.
By nature he is quiet and is a loner. But on one of those odd moments when you are least expecting it, he will walk up to you and wag his tail.
Yami is a life saver for other canine distemper victims. He has saved around 150 of them by donating his blood serum to them.
He is truly a hero at CARE!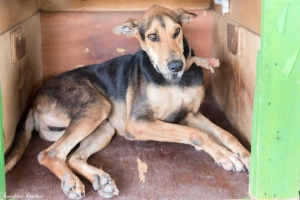 Yellow came to CARE in 2014 along with two other dogs from Konankunte cross.
She had a mutilated front leg, the result of a horrific accident. Unfortunately the other two passed away due to life threatening illnesses leaving Yellow alone. Yellow's leg was amputated and it tore us apart to drop this slightly built three legged back in the not, bad world and so yellow came to live with us.
She was called Yellow due to her strange yellowish coat color.
She is one of the most gentle and peace-loving doggies in the shelter and is a favourite among the volunteers.